Happy May Day!
It was an early start this morning to photograph a jovial group of men known as The Long Man Morris Men who were performing (at 05.30am) at the feet of the 235ft-high Long Man of Wilmington. Although slightly reluctant to photograph this somewhat clichéd English pastime, I was soon won over as I stood on a deserted country road as the sun rose over the South Downs, watching twelve middle-aged men dance the Cotswold tradition.
Judge for yourself with this video posted on You Tube here.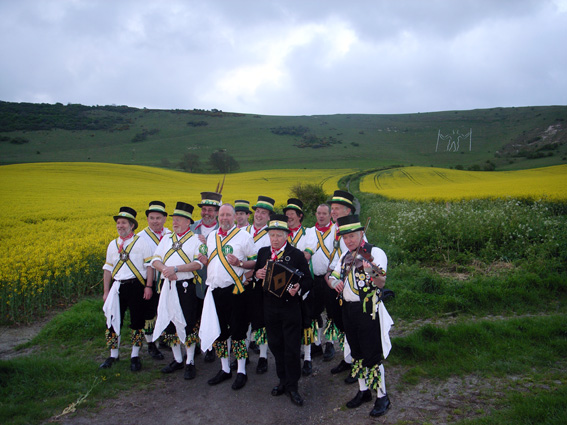 The Long Man Morris Men were founded in 1978 and today marked their 30th May Day performance at 'The Long Man'.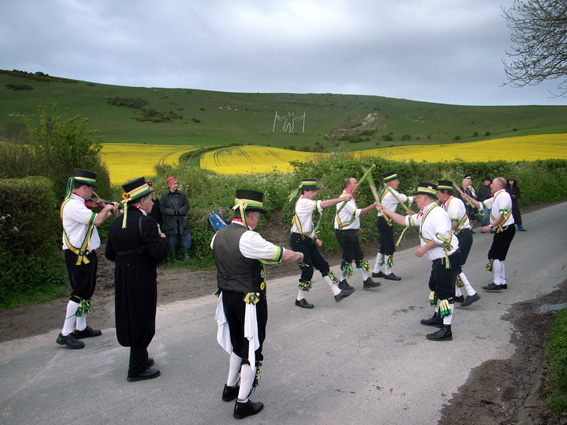 The Long Man of Wilmington towers above the village of Wilmington, nestling on the steep slopes of Windover Hill. The Sussex Archaeological Society have been responsible for The Long Man since 1925, when it was given to them by the Duke of Devonshire. Local legend has it the carving is an ancient fertility symbol who was robbed of his manhood by the prudish Victorians. Others believe it is the work of a monk from the nearby Michelham Priory, carved between the 11th and 15th Centuries. It may originally have been an indentation in the grass rather than a solid line, but archeologists say it was first outlined in brick in the mid-16th Century. The giant is so highly visible it had to be painted over during World War II to prevent enemy aircraft using it as a landmark.
To find out about May Day weekend events visit the England in Particular website.