I must say that I've been totally underwhelmed by Martin Parr's much heralded photographic portrayal of ten British cities, which have been running as 'special' supplements in the Guardian newspaper over the past few months.
This weekend, the Guardian's Weekend magazine ran a cover story with a twelve page spread showing a selection of Parr's photographs under the title 'Urban Splash- Martin Parr captures the essence of Britain's cities'.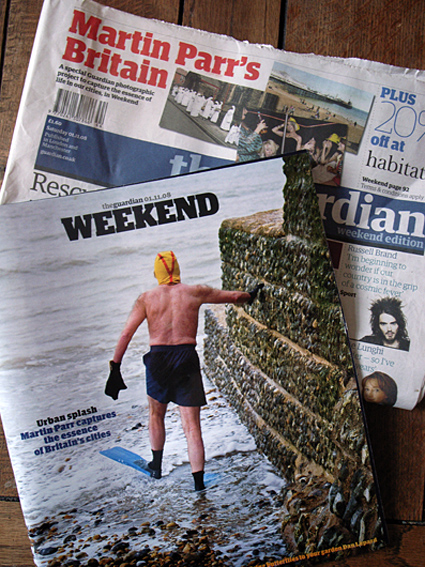 I've not seen the full set of photographs, however, if the magazine's edit is anything to go by then they appear to be little more than an incoherent selection of snapshots hurridely collated, and furnished with uninteresting and often irrelevant captions. Aesthetically they seem very lazy indeed. Maybe he's been too busy this year peddling Parrworld? (the largest exhibition to date of his work, which opened at the Haus der Kunst in Munich and is touring the world).
The whole project also appears to be very calculating in terms of its spin-offs, with various box sets (standard and deluxe) and calendars available from the Guardian website here.
I'm not one of those anti-Parr photographers, indeed I've long respected him as a practitioner and commentator, however it does seem that he's missed a real opportunity to produce something interesting and illuminating about Britain, twenty years after the publication of his groundbreaking book, The Last Resort.
Much of his portrayal has certainly been seen as very stereotypical, as illustrated by these comments posted on the Guardian letters page –
"I was dismayed and shocked by Martin Parr's supplement on Newcastle (British cities: Newcastle, October 27). He introduces his piece: "I first visited Newcastle in the mid-70s and I remember being impressed with Byker, a classic working-class suburb with a tight sense of community and steep terraces. I revisited Byker for this project and found the small shops were struggling, despite Aldi and the Gala Bingo doing well." This shows he came to Newcastle with the notion of finding that quaint, parochial, grim-up-north picture of the Geordie struggle for survival – a dangerous stereotype to uphold.
Newcastle is no longer a bastion of British industrial power, but a multicultural metropolis often billed the London of the north because of the regeneration that has been applied to all areas of the city. Areas such as the Quayside and Jesmond have welcomed this regeneration, and have seen new life breathed into them, attracting young professionals and students alike.
There are many things Parr could have shot to highlight the urban evolution that is happening within this city. He mentions Grey Street and the stunning architecture of the city centre, but does not show it in any of his photographs. Then there are some of the many attractions that bring people to the city that he missed out in favour of outdated sentiments, such as the Laing Art Gallery, the Tyneside cinema, Blackfriars dining hall, the Tynemouth Priory and Castle, the Jazz Cafe, both universities and any one of the many bridges spanning the Tyne – I could go on."
Nelson Iley, Newcastle upon Tyne
"Martin Parr's supplement on Newcastle was billed as one of a series "capturing today's urban Britain". What he has actually done is lazily capture all the cliches of Newcastle from 30 years ago. In his 29 photographs, he manages to pack in bingo, greyhound racing, homing pigeons, a double dose of the derelict Swan Hunter shipyard, a greasy spoon cafe, two shots of hen nights, two lots of women with cheap drinks at the races, and a tattooed man prodding his barbecue. While all of the above go to make up some of the rich mixture of life in Newcastle, where are the other sides to the city? Where's the chic city centre pubs and bars? Where are the 50,000 students? Where are the arts venues? Where is the growing multicultural community? Guess they would not suit the stereotypes Parr set out to portray."
Graeme King, Newcastle upon Tyne
"Martin Parr seems to have arrived in Newcastle with all his stereotypes in tow, and to have regurgitated them for us with stock images of pigeon fanciers etc. Geographically, the photo essay was inaccurate. It was entitled Newcastle, but included Gateshead and North Tyneside – two areas distinct from Newcastle in the eyes of north easterners."
Alison Grant and Anna Vaernes, Newcastle upon Tyne
You can see a selection of Parr's images from the project on the Guardian's website here.
I'd be interested to hear your comments on the work, if you haven't already done so on the Flickr group Martin Parr We Love You!