November 23rd, 2009 admin
There's a feature in this week's British Journal of Photography (Issue: 18.11.2009) written by Peter Hamilton. Now the time returns again explores the new crop of photobooks, including We English, that document England/Britain. Hamilton's article looks at the tradition of the national survey, discussing work from the likes of Bill Brandt and Ian Berry to Edwin Smith and James Ravilious.
Hamilton writes "Englishness has been a constantly recurring theme for documentary photography in recent years. In the last few weeks Chris Steele-Perkins has brought out England, My England, Simon Roberts has contributed We English and Sirkka Lisa- Kontinnen Byker Revisited. Each slots into a different niche of the national question about who 'we English' are, yet all intersect within the larger Venn diagram of photobooks about England or Britain."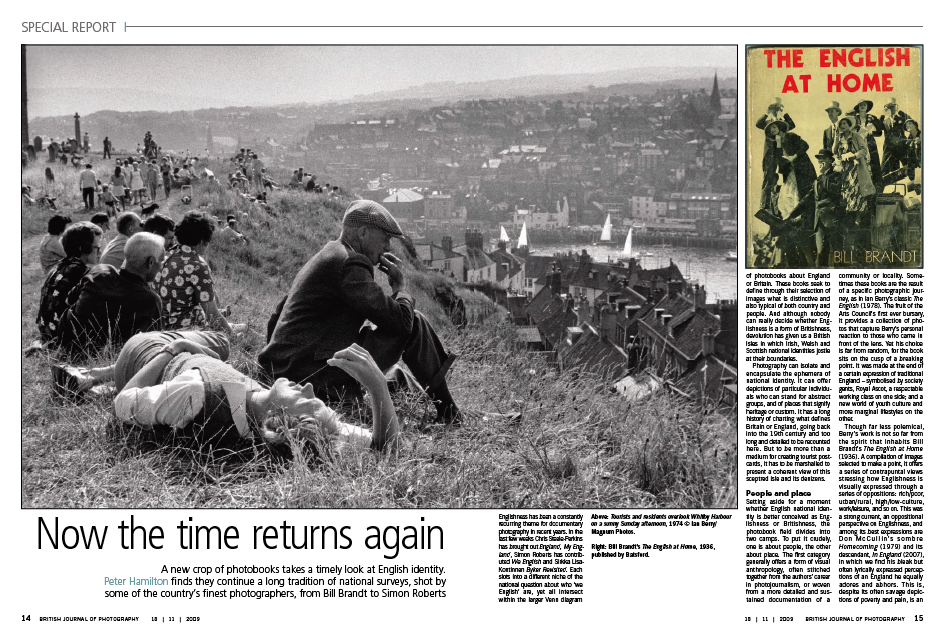 Now the time returns again by Peter Hamilton, BJP, 18.11.2009
Hamilton concludes "At the end of the day, the English famously have a sense of humour, something which touches so many of these pictures and books. Few English photographers are lauded as 'great' in the conventional histories of photography, that is to miss just what makes English photography so notable. By not taking itself too seriously, it has always managed to look at Englishness itself, and the rest of the world, with unjaundiced eyes."
You can download a pdf of the article here.
And on the subject of the BJP, I'm going to be doing a book signing at their Vision 09 event this coming Friday in London. I'll be doing the signing from 1.30pm on Chris Boot's stand.