We English by Simon Roberts
"Roberts' manner is calm. He shows people small in the landscape, clustered into groups rather than isolated as individuals. He likes to shoot from relatively high, so we see patterns. It is partly a show about ritual in the landscape, the strange things we do to feel we belong. It is partly about how the very numbers of us who come to enjoy the land spoil the thing we admire. A strong theme is about movement, but Roberts shrewdly notices how much movement is local. Playing golf still has something pastoral about it, even in the shadow of the very power station which employed you. These elegant pictures invite multiple readings, but they do it with confidence and zest. With flashes of wit, humanity, and abundant respect for his photographic predecessors, Simon Roberts has added a good one to the canon of surveys of the English."
Francis Hodgson, Critic, 2011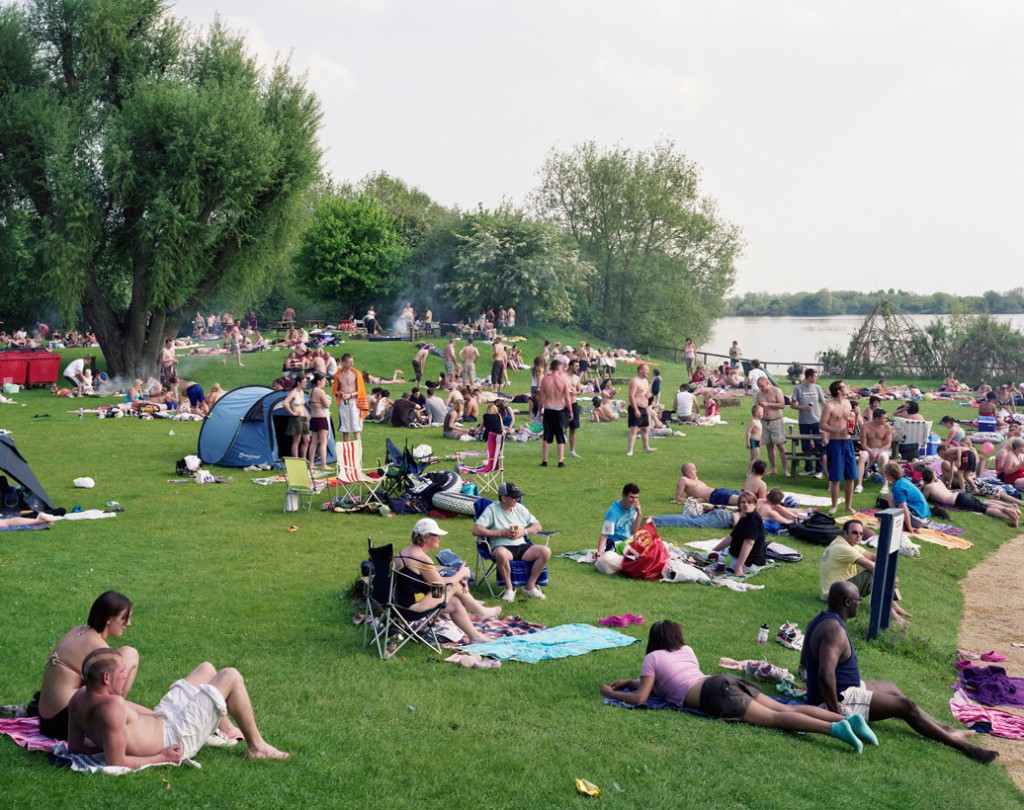 Keynes Country Park Beach, Shornecote, Gloucestershire, 11th May 2008

About the Project
British photographer Simon Roberts' comprehensive body of work We English surveys the diverse pastimes of ordinary people in the context of the English landscape. From 2007-2008, Roberts traversed England in a motorhome—with his pregnant wife, two-year-old daughter and a 5x4-inch camera—from Skegness Beach, Lincolnshire to the South Downs in East Sussex, photographing the English at leisure.
We English emphasizes the importance of play, as much as work, in shaping culture. It also reveals a population with a profound attachment to its local environment and homeland, a theme that Roberts explored in his first major body of work, Motherland (2005), which was shot in Russia. In We English, Roberts takes up some of the ideas relating to identity, belonging and nationhood that he touches upon in Motherland, but this time in the context of his home country. It is now in England that he captures patterns of behaviour and interrelationships occurring between people and place; a vantage point that is informed by his previous studies in cultural geography.
Recreation is a key motif, yet it is the location of people in the landscape that is the focus for Roberts' multi-figure compositions; the elevated viewpoint and distant perspective used in many of his pictures accentuate the formal elements of his work, at times such that the human subjects, dwarfed by the surrounding terrain, become bit-part players in large-format tableaux. Each narrative of leisure reveals something of what it means to be English and how this is tied to the specificity of the surrounding landscape, and its increasing commodification. Given the physical geography of England's extensive and variegated coastline and its history as a maritime nation, the seaside is also a significant location.
In Roberts' We English blog — where he documented his research process and crowdsourced suggestions for activities to photograph — he points to a number of key works by British painters. These include William Powell Frith's panoramic group studies of Victorian life, Derby Day (1856-8) and Ramsgate Sands, Life at the Seaside (1854), the former based on photographic studies by Robert Howlett; and JMW Turner's land- and seascapes. Documentary surveys by British photographers such as Tony Ray Jones, Martin Parr and others are also reminders of what has preceded him.
Drawing from a rich history of British landscape photography and painting, We English (the body of work and the blog archive) pays tribute to and builds on the legacy of these artists and photographers; in so doing Roberts' series of lyrical colour vistas provide a unique contemporary topography of the English at play.
We English was published by Chris Boot (2009) and selected as one of the thirty most influential photobooks of the last decade (details). A major exhibition of this work was held at the UK's National Media Museum in 2010 and then toured extensively.
The project was supported by National Media Museum, ACE and the John Kobal Foundation.
Simon Roberts' commentary (link) (pdf)
Essay by Stephen Daniels: "The English Outdoors" (pdf)
Audio interview on Lens Culture (link) and Kaunas Photo (link)
Video interviews produced by the National Media Museum (1), (2), (3), (4)