On a trip back from Amsterdam recently I came across a newspaper cutting with an article entitled 'Man goes golfing after jet crash destroys home' (see cutting in my scrap book below). A story that goes some way to highlight the sometimes bizarre devotion the English have for sporting pastimes. Eddie Harman, 72, was in Spain when he was told that a plane had crashed into his home in Farnborough, killing five people. His wife came home from a separate holiday to cope with the aftermath, however, Mr Harman played a round of golf before returning to England. He is quoted as saying "I think a round of golf helped take my mind off things."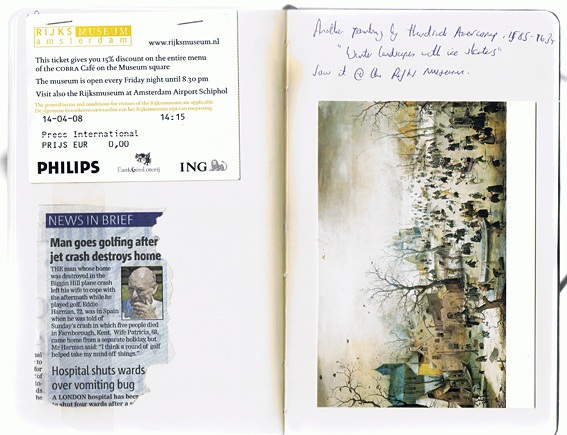 While I was in Amsterdam I visited the Rijks Museum. Although the building is currently undergoing major renovation, there is still an opportunity to see a selection of the museum's masterpieces. A small but wonderful display of Dutch paintings. Given my current interest in leisure, I was particularly taken by Hendrick Avercamp's 'Winter landscape with iceskaters'. Avercamp (1585-1634) was one of the first landscape painters of the 17th-century Dutch school, and the most famous exponent of the winter landscape. He was deaf and dumb and known as de Stomme van Kampen (the mute of Kampen).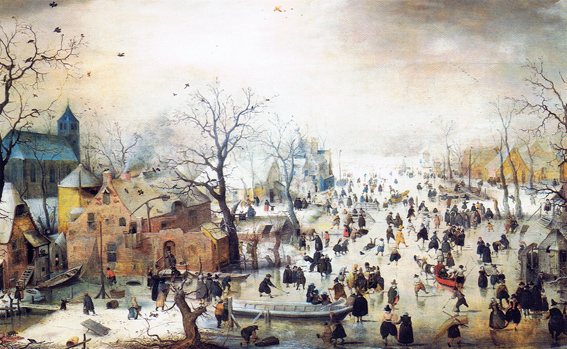 Winter Landscape with Iceskaters, c. 1608
In this painting, one of the earliest large winter landscapes in the Rijksmuseum, crowds of people are depicted on the ice in a scene that stretches far into the distance. There is considerable variety among the figures, both in clothing and in what they are doing. Some of those portrayed are having fun, while others appear to be working. Avercamp has included several daring details, such as the couple making love, the bare buttocks and the man urinating.
Another wonderful example of Avercamp's winter landscapes is: 'A winter scene with skaters near a castle' (1585), reproduced here-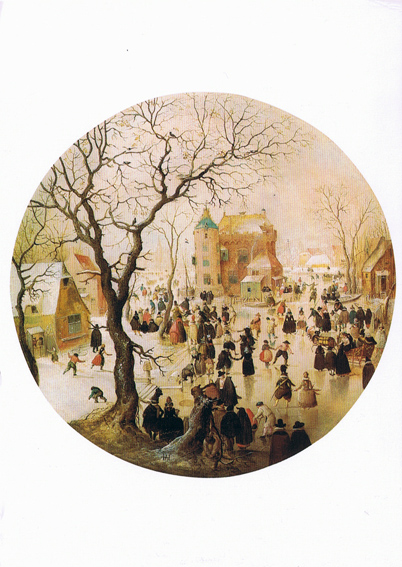 I'm going to look at paintings in more detail in a future post. In the meantime, if you have any suggestions of paintings that depict scenes of leisure and pastimes, particularly in the English landscape, please post them below.
A few for starters –
William Powell Frith 'Derby Day' (1856-8)
Philip Wilson Steer 'A Procession of Yachts' (1892-3)
James Tissot 'Holyday' (c. 1876)