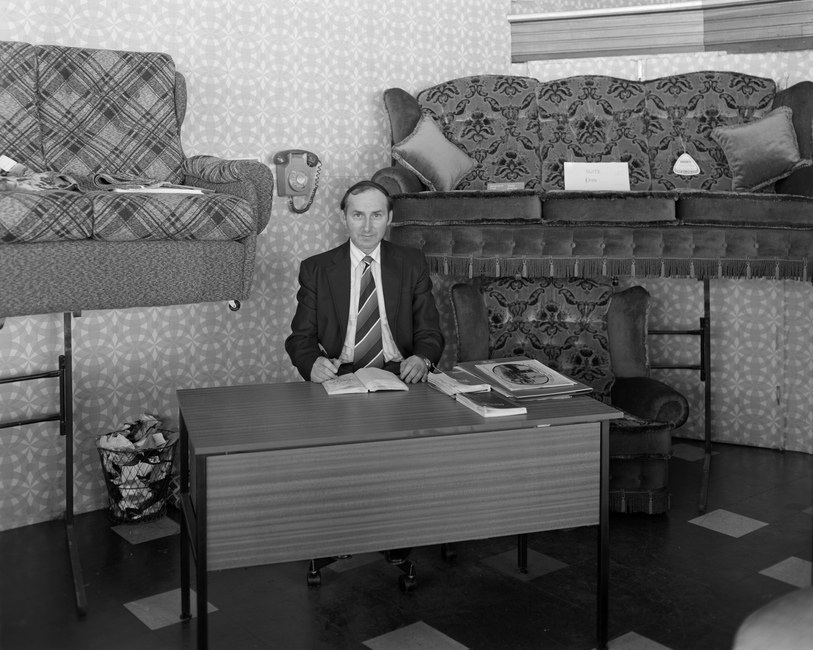 Image: "Sofa Salesman," 1979.
There is a wonderful feature on the photographs of  John Myers, which has just published on the New Yorker's website under the headline 'The Essence of Britishness, Through the Eyes of an Under-Recognized Portrait Photographer' by Rebecca Mead.
https://www.newyorker.com/culture/photo-booth/the-essence-of-britishness-through-the-eyes-of-an-under-recognized-portrait-photographer
Myers work was shot throughout the 1970s in the West Midlands, and his pictures have a uniquely British feel to them. The Portraits will be the only complete collection of Myer's portraiture work ever published, and we are excited to be bringing this master of portrait and setting to a wider audience. The Portraits is limited to 450 copies; each copy of the book will include a 5×4" original silver gelatin print. In addition, copies 1-50 will also contain a 10×8" silver gelatin print. There is a separate portfolio edition of 8 with accompanying presentation box of 12 9.5×12" silver-gelatin prints. Both the 10×8″ print and the set of 9.5×12″ prints are selenium-toned.
John Myers was born in 1944. His photographs were taken between 1972 and 1983 using a 5 x 4 inch Gandolfi plate camera.
RRB Photobooks have just published a book of John's portraits available here:Â https://www.rrbphotobooks.com/pages/john-myers-the-portraits
23rd April 2018
Binding Hardcover
Size 250 x 285 mm
Extent 176 pages
ISBNÂ 9781999727512