September 27th, 2008 admin
A reader of the blog emailed me today to suggest I looked at roadside memorials as part of the project-
"Dear Sir,
This may seem macabre but there is a whole book just waiting to be written whose subject would be the shrines which have sprung up on roadsides where a loved one has been killed in an accident. Some are attended more regularly than many a grave, with floral tributes frequently restored. Others have grown to iconic proportions with photos and the deceased's number plate.
All have a tale to tell I'm sure. For starters, if it's still there, look near the lay by on the A628 near Woodhead between Glossop and Barnsley (the Woodhead pass). It's just before the lay by which is more like an old quarry entrance and has a snack bar trailer in it. The shrine is in a very dangerous section."
Although not something I intend covering for We English, I think it's worth a mention on the blog, especially following on from my post Death, Read All About It, last week.
During our travels we did come across a large number of roadside memorials marking the location of fatal road accidents. These shrines, marked with plaques, wooden crosses and flowers, are considered not only an appropriate but also an expected response to tragedy.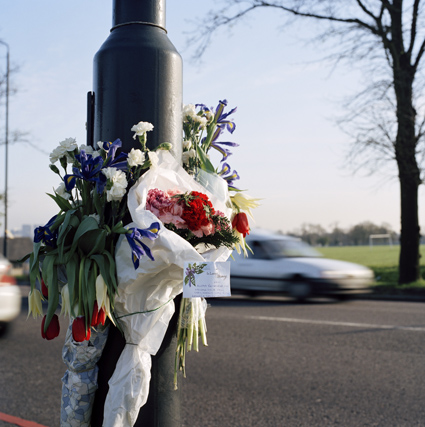 Roadside Memorial, Purley Way, Croydon
The card reads "In Loving Memory, Von – Always Remember You and Always Love, from Cary, Maggie, Chris, Ruth, Lesley and family."
According to Brake, the road safety charity, while many local authorities are happy for small memorials to be placed at the roadside, some authorities object to permanent memorials, even small ones, and even go as far as restricting the length of time that flowers can be placed at the scene of a crash. Dr Una MacConville from the Centre for Death & Society at University of Bath has undertaken research into these 'spontaneous shrines', as she refers to them. She claims that these restrictions are for "health and safety reasons" and authorities are claiming they are acting on foot of advice from the police who fear the tributes, many near dangerous roads, could distract motorists. These restrictions have been considered "crass and insensitive" by bereaved families and road safety campaigners, some of whom feel these memorials are being removed in order not to draw attention to the death toll on certain roads.
One of the most interesting phenomenon related to roadside memorials has been the appearance of Ghost Bikes around England, and abroad. Ghost Bikes are small and somber memorials for bicyclists who are killed or hit on the street. A bicycle is painted all white and locked to a street sign near the crash site, accompanied by a small plaque. The first ghost bikes were created in St. Louis, Missouri in 2003, and they have since appeared in at least 62 cities throughout the world. 
 
Ghost bike, Brighton
James Danson-Hatcher, 23, was fatally injured when he was hit by a car travelling at about 60mph near a Brighton beauty spot. The accident happened at the junction of Saddlescombe Road and Devil's Dyke Road, on the outskirts of Brighton, at about 5.30pm on April 5. Mr Danson-Hatcher, was riding home after a visit to Devil's Dyke when he was hit by a Fiat Bravo. A recent inquest inquest into the accident heard Mr Danson-Hatcher, who had ambitions to be a professional photographer, was described by his family as a competent and experienced cyclist who regularly rode to Devil's Dyke to cycle across the Downs. His father told the hearing cycling was his son's main means of transport and leisure activity and said it was a "cruel irony" he died while on his bike.
As the Ghost Bike website quotes "the bikes serve as reminders of the tragedy that took place on an otherwise anonymous street corner, and as quiet statements in support of cyclists' right to safe travel."