One of the highlights of a county show in Cumbria is the traditional local sport of Cumberland & Westmorland Wrestling. C&WW has an ancient history, it is thought the Vikings brought the sport to England, however its glory days occurred in the eighteenth and nineteenth centuries.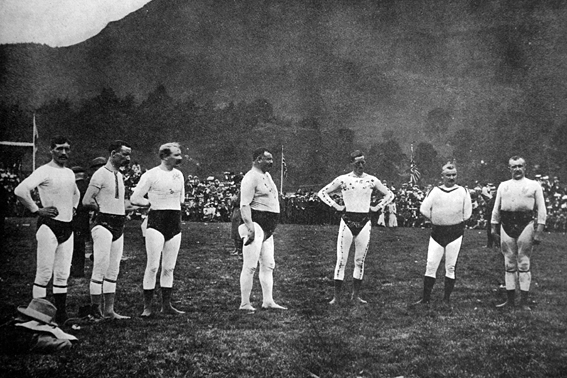 Wrestlers at the Grasmere Lakeland Sports & Show, 1903
In the mid-nineteenth century, wrestling had acquired a very wide popularity, attracting both competitors and spectators from inside and outside Cumbrian boundaries. In 1851 at Flan How, Robert Atkinson of Sleagill, Westmorland, met William Jackson of Kinneyside, Cumberland, for the Championship of England. The contest, for a purse of £300, attracted one of the largest crowds ever to witness the sport with an estimated 10,000 spectators. Atkinson won, by three fans to one.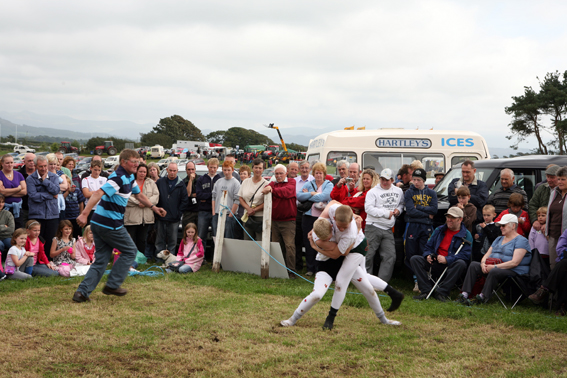 Two junior wrestlers in traditional costume compete at this year's Gosforth Show
To begin a match, the wrestlers must "tekk hod" – linking their fingers together behind the back of their opponent. This can take quite a while! The contest is 'best of three falls'. If the hand hold is broken, that also constitutes a fall. In the 18th and 19th centuries, men competed for substantial cash prizes and local status. In these centuries, match fixing was a problem – it was known as 'barneying'. Wrestling always takes place on grass.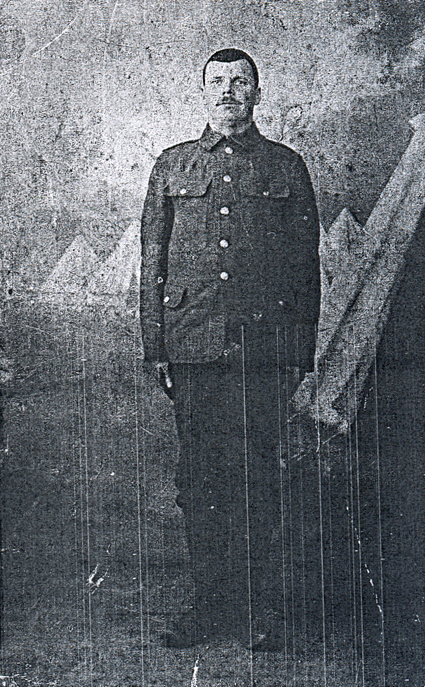 18649 Private Henry Walsh 
While researching the sport I discovered that one of my distant relatives, Henry Walsh, (my Mum's cousins grandfather) was a champion Cumberland wrestler winning between 1910-12. Born in Cleator Moor, Walsh was brought up in the town of Frizington. His wrestling career came to an abrupt end with the onset of the First World War. He enlisted with the Cumberland 3rd Border Regiment and was one of many soldiers gassed in battle. Sent back to the UK to recuperate, he died soon after aged just 27.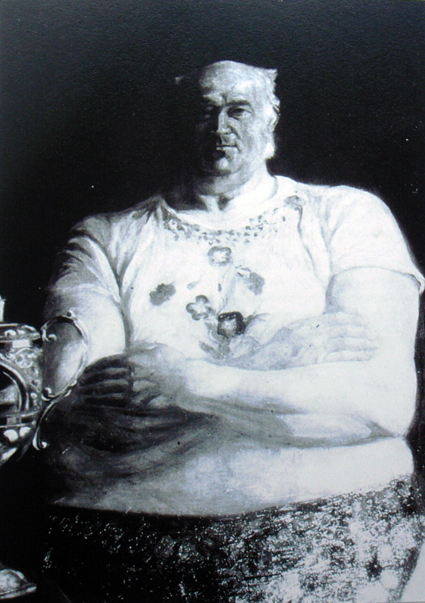 George Steadman
Of all the heroic figures celebrated in the annals of wrestling, none can equal George Steadman of Asby, near Appleby. In 1900 at the age of fifty-four, he decided to quite the ring having won the Heavyweight Championship at Grasmere on no fewer than seventeen occasions.