September 30th, 2008 admin
Here it is, a pile of contact sheets that represent the fruits of my labour from the past six months. Amongst the few hundred frames I've shot (about 1500 to be precise), I now have to tease out a coherent selection of photographs. I've had a quick scan through them and I'm trying not to let the wave of 'contact-sheet depression' set in. It usually does, and although short lived, it can be quite overpowering! I'll set them aside for a few days and come back with fresh eyes.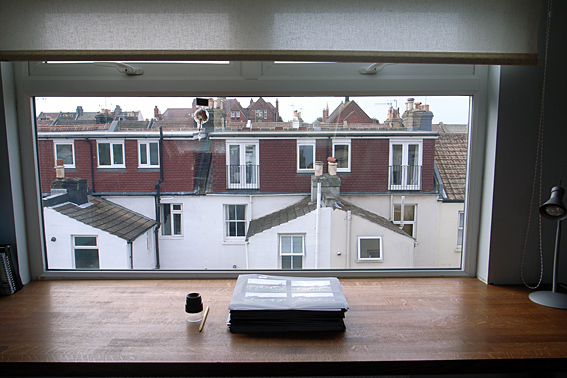 In the meantime, I thought it might be interesting to briefly outline how I normally edit my work. I'll do this using my first book, Motherland, as a case study. I've also pulled out some quotes from other photographers who discuss their approach to editing.
To produce Motherland I shot just over 5000 frames during the course of my year traveling across Russia (for the techies among you, I used a Mamiya 7 camera with Kodak Portra 220 film). Every three months, on my return to Moscow to get a visa extension, I had the film processed and contact sheets made. This enabled me to do some editing during the course of the journey. It also allowed me to evaluate how each stage of the project was developing, what themes were emerging and work out what I needed to be looking for during the next stage of shooting. Critically, it also meant I could check that the camera/ lenses were working properly and that the film hadn't been fogged by some Soviet-era airport security scanner.
On my return to England I made a wide edit of 500 images from the contact sheets. This selection of images I scanned on an Imacon and then made larger contact sheets. These sheets were then spiral bound into a book. Here are a couple of pages from the book-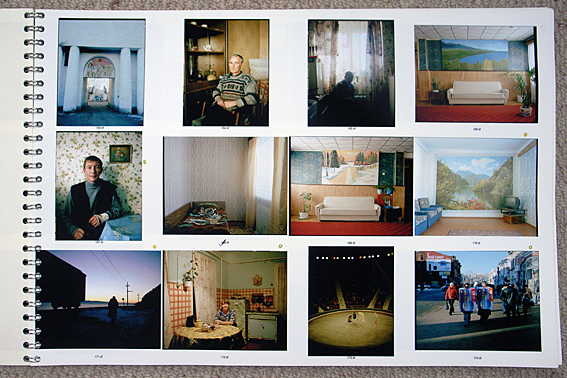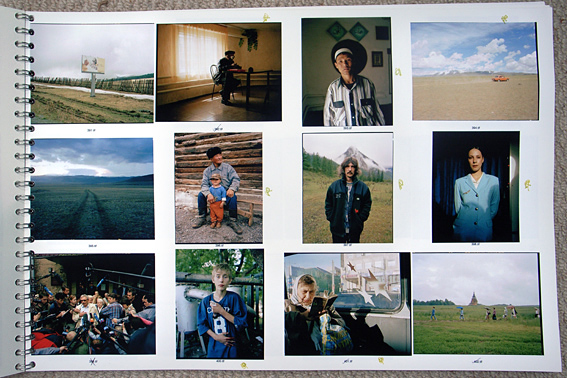 Over the course of a few weeks I would return to the photographs marking those images that I was most interested in. I'd start with a small cross in the top left corner with a yellow chinagraph-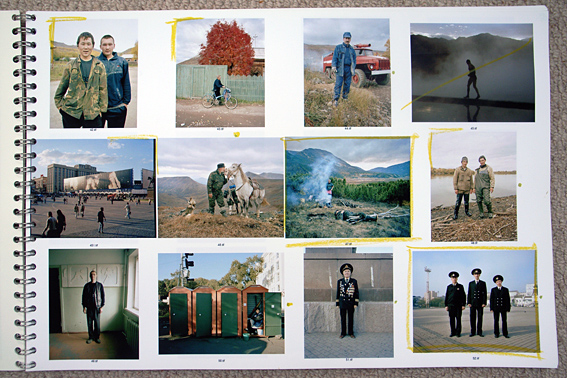 Then finally mark the definitive photographs on all four sides-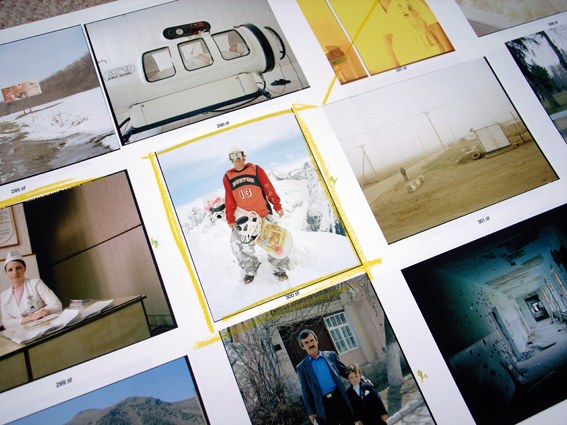 After a couple of months I gradually (and somewhat painfully) whittled the 500 images down to the final book edit of 153 photographs. This was done with the help of some editors, most notably Chris Boot, my publisher. It was critically important that I had an external eye (and someone I trusted and respected) to help with the editing. I was too emotionally attached to the photographs and in several cases wanted to select images that just weren't strong enough or didn't fit as a whole.
The final stage was to prepare the 153 scanned photographs, getting the colours correct and doing some slight cleaning up in photoshop. They were then turned into CMYK files for the printers. I also made 10×8 prints of all the photographs which were used for colour matching at the printers.
With regards We English, the editing process will be made slightly easier as the 5×4″ negative is a lovely size to preview, which means I won't have to scan as many images. Time is also on my side. The book won't be going into production until Spring next year. I'm envisaging there will be about half the number of photographs in the book than there were for Motherland. 
 
Other photographers discuss their approach to editing-
These quotes are taken from the book Image Makers, Image Takers by Anne-Celine Jaeger.
Mary Ellen Mark: "Editing is extremely difficult. It's taken me a long time to learn how to edit. Teaching has helped me with editing. When I'm editing my own work, I do a first general edit. Someone in my studio then scans my edits and enlarges them to approximately 5×7. We place all the enlarged scans side by side which makes it easier to see which frames are the best. Then I choose the final edit."
Martin Parr: "You usually have a hunch, but the great thing about photography is that it's so unpredictable, so you never quite understand how and when a good photograph comes about. But when editing, I do contact sheets, then machine prints and then select from that."
And when asked what makes one image stand out more than another, is it emotional or an intellectual reaction he answers: "It must be intuitive. If it were intellectual, I'd be able to explain what happens. That's why I'm a photographer. I express myself visually, not verbally."
Eugene Richards: "I pretty much know that a photograph is 'successful' or not when I take it. So when I'm home from an assignment, what I mostly do is go looking for those 'successful' pictures, hoping that I wasn't kidding myself or that I didn't screw up."
Sebastiao Salgado: "I do a first choice from contact sheets and then do many, many work prints. From that, I then choose an average of six images per film. Then I reduce it down to whatever is needed for the magazine in question. I shoot about two to three hundred rolls of film, if I am away for several months."
Rineke Dijkstra: "I scan the negatives and make them bigger so you can see them more. Then I might leave them for two weeks because you need distance to see them properly. It happens to me that I take a picture and I think it doesn't work at all and then I look at it three years later and I think it's a great picture. It's probably linked to having something in mind and being disappointed that your expectations weren't met."
Rankin: "I don't like editing so I always try to fob it off on to someone else, whether it's a picture editor or someone in my office. You'll be surprised what other people can bring to your pictures."
Alec Soth: "At the beginning of a project I'll have all these different pictures, because I don't know what I'm doing and the themes haven't emerged. The more trips I make, the more pre-editing goes on. I might see something that's interesting but it won't fit in. That's when taking a picture becomes difficult. I think in terms of a book and try to assemble it in my brain. I might take couple of hundred and then edit that down into a series. In the end it's about creating a mood."
 
And a few paragraphs taken from On being a photographer – David Hurn/Magnum in conversation with Bill Jay.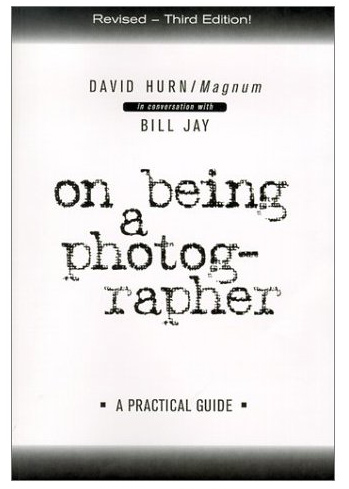 "The myth is that the best photographers are the only ones who have the insight and ability to select the best images of their own work for publication or exhibition.
The myth arises because the photographer is often too close to the subject matter, invests the content with emotion which might not be present in the picture, and believes that in order to be 'true to myself' he/she has a special insight into the work. But the best editors of images are those who are capable of divorcing themselves from emotion when judging their own (or others') work and assessing picture merit dispassionately and with a cold logic.
In the same way that writers are enhanced by a close relationship with a good editor, so a photographer can benefit from the insights of a good picture-editor.
Our advice to photographers is: find an editor you can trust, one who is working at the highest possible level of professionalism."
Hurn and Jay finish with an instructive example of this myth-
W.Eugene Smith, who became a legend by resigning from Life magazine because he was not allowed full control over picture selection. When he was given the opportunity to edit his own work the results were disastrous, as epitomized by his Pittsburgh essay. He shot over 11,000 negatives in one year (1955), printed 7,000 proofs, and selected 2,000 images. The only publication willing to use the result was Popular Photography Annual, 1958. It used 88 images over 34 pages. Even on Smith's terms, the whole project was a failure.