Today I was photographing at the Cotswold Water Park, a 40 square mile wetland area south of Cirencester. The Water Park is the catchment area of the Upper Thames. Back in 1967, it was designated the Cotswold Water Park by a Joint Committee formed from the four local authorities – Gloucestershire & Wiltshire County Councils, and Cotswold & North Wilts District Councils. Many of the lakes are flooded gravel excavation pits. Gravel extraction began in the area over 50 years ago. Because the water table is so high, the first quarries were dug wet; today, however, quarries are de-watered. When extraction is complete, all pumps are switched off and the holes fill naturally with water. There are 140 lakes in the park, controlled by 40 different owners, many of whom use their lakes almost entirely as private property, private clubs or for private developments.
I spent most of the day photographing at the Keynes Country Park with its large beach area and lush green wooded backdrop. The lake was packed with families and groups of friends enjoying the May sunshine. The scene reminded me of a photograph I'd taken in Yekaterinburg for my book on Russia, Motherland (also taken in May).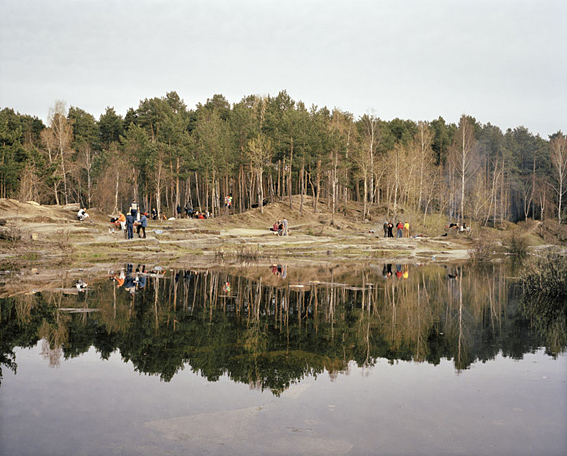 Victory Day Picnic, Yekaterinburg, May 2005
Interestingly enough, having photographed a family barbequeing on the edge of the woodland, I discovered they were actually from Slovakia. Dusen and his wife have lived in Stroud for the past three years where they work as vets. When I asked them about their future plans they told me they'd be returning to Slovakia because they wanted to bring up their children in their 'homeland'. This sense of belonging echoed the relationship that many Russian's feel for their 'motherland' or rodina in Russian.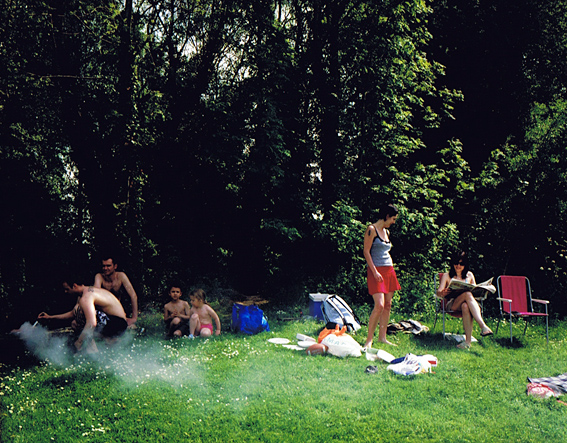 Dusen and his family, Keynes Country Park
Rosamund Bartlett, who wrote the introduction to my book, described the idea of the rodina as such-
"Rodina might just about be the most emotive word in the Russian language. The fact that it is also impossible to translate adequately says something about its close relationship to questions of national destiny, the Russian sense of self and the enduring belief in the country's messianic future. The Russian motherland is something apart. 'Every nation has a motherland,' wrote the religious philosopher Georgy Fedotov in 1915, 'but only we have Russia.' The deepest source of patriotism in Russia accordingly lies not in pride in national achievements or military glory, but in love for the motherland, whose most visible expression is the extraordinary, almost physical attachment which Russians have for their native landscape – an attachment which they are often at a loss to fathom."
This sense of belonging and attachment to a physical place is one of the motivations for my England journey. I suppose in some ways I'm on a quest to discover what my own homeland means to me.