We're leaving Hebden Bridge in Yorkshire and heading to Birmingham for the next couple of days. Tomorrow I will be a panelist on the Rhubarb-Rhubarb seminar 'The Value of the Image'. If you're going, please be sure to say hi afterwards.
Here are the details-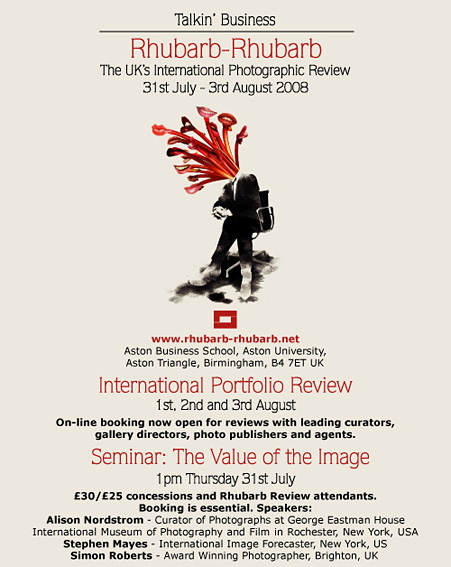 RHUBARB-RHUBARB PRESENTS THE VISIONARY 'TALKIN' BUSINESS' SEMINAR
with
Alison Nordstrom – Curator of Photographs at George Eastman House International Museum of Photography and Film in Rochester, New York
Stephen Mayes – International Image Forecaster, New York
Simon Roberts – Award Winning Photographer, Brighton
Conceptualised and chaired by Rhonda Wilson – Creative Director, Rhubarb-Rhubarb
Three remarkable people with a wealth of experience in the fields of Fine Art/Documentary/and Commercial/Stock photography discuss The Value of the Image at a time where technologies and economics are inextricably bound up in the futures of emerging and mid career photographers, and the ability of those already 'up there ' to remain so. 
Far from simply being a question of producing 'good' images, the demands on photographers – to be smart in business and savvy in protecting themselves and their images from real time and virtual exploitation, keeping their agents happy, selling work and finding the resources to finance new projects – are the harsh realities for anyone wishing to stay alive in the increasingly complex ladder of opportunity within the image sector.
In this fascinating seminar, Simon Roberts gives a contemporary account of the skills involved in becoming and remaining an international photographer of repute; Alison Nordström  will discuss the acquiring and caring for work in perpetuity – how working with museum collections is fundamentally different from working with sales galleries, temporary exhibitions or alternative spaces and Stephen Mayes will be predicting the future with the demise of copyright and the rise in the value of the web for selling ideas.
Thursday 31st July 2008 at 1pm
Lecture Theatre, Aston Business School, Aston University, Aston Triangle, Birmingham B4 7ET
£30 , £25 concessions and Rhubarb Review attendants– booking essential –
please email info@rhubarb-rhubarb.net to reserve a place