According to a recent article in The Times, which quoted a survey conducted by Travelodge hotel group, almost 5m southerners have never travelled north of the Watford Gap – and the cultural barrier, often known as the North-South divide, has become an equal deterrent in the opposite direction.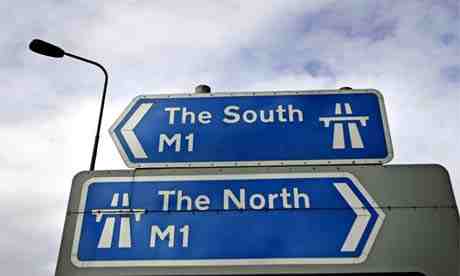 © David Sillitoe/ The Guardian
 
The North-South divide is not an exact line, but one that can involve many stereotypes, presumptions and other impressions of the surrounding region relative to other regions. The Times article quotes that almost three-fifths of northerners in the survey described southerners as "snobs" while half surveyed associated London and the home counties with "wide boys" and City brokers in "pinstripe suits". For southerners, the north is a desolate landscape of derelict mining villages and fish and chip shops, and is dismissed by three-fifths as "bleak" and "unsophisticated".
The existence of the North-South divide is often contested, although the Watford Gap service station is unofficially known by residents of London and southeast England as the point where the north-south divide occurs.
According to wikipedia, it has recently become more popular to use the phrase "north of Watford", referring to the larger town. The reason for this change is probably due to the signs at Staples Corner, where the M1 begins, reading simply 'M1, Watford, The North' thus potentially implying that Watford is the last place in the South.
In his book The English, Jeremy Paxman proposed that the north might be defined as anywhere above a line drawn from the Severn to the Trent. Whereas Stewart Maconie, in his book Pies and Prejudice, suggests the north begins at Crewe station, beyond which point "the geology becomes harder, the accents flatter and the climate wilder. And the surface of the M6 turns from tarmac to cobbles."
Having driven past Watford Gap, the Severn-Trent line and finally passing Crewe train station on Friday, we must officially now be in 'The North'.