Between 1983 and 1986, Martin Parr photographed holidaymakers and day-trippers in the decaying seaside resort of New Brighton on the Wirral (near Liverpool). Using flash and printing in vivid colour, he shed an unforgiving light on his subjects. The project was published by Dewi Lewis and exhibited at the Serpentine Gallery in 1986 as The Last Resort.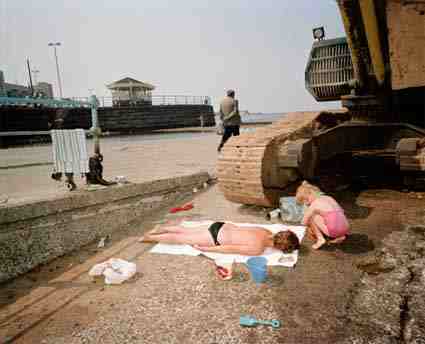 © Martin Parr, The Last Resort
At the time, there was a concerted critical media response to the work with most of the criticism being aimed at the subjects, not the photographs. Since its publication there has been much debate about Parr's approach to his subject and opinions are very much divided between those who consider his work as cruel and voyeuristic, while others suggest his view is actually affectionate and amusing.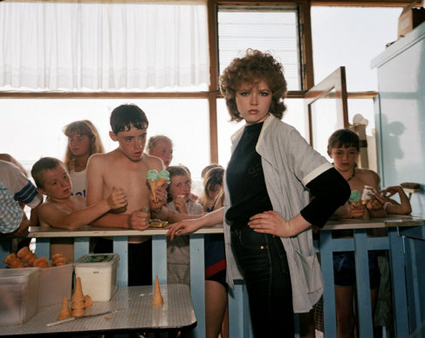 © Martin Parr, The Last Resort
Whatever you think, The Last Resort was a highly original and influential body of work and a wonderful satire on the state of Thatcher's Britain. It established Parr as one of the world's most influential and admired photographers, while revolutionising documentary photography in Britain.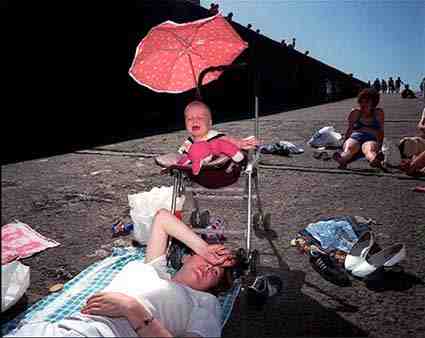 © Martin Parr, The Last Resort
So it was rather surreal arriving in New Brighton on a sunny (and rather blustery) afternoon a couple of weeks ago having all the visual baggage of Martin Parr's photographs in my head. Of course it was an anti-climax. In the name of progress the area has changed considerably since Parr's days with much of the Wirral's northern coastline a sought after area, (we were staying with two university friends, a GP and a trainee Consultant, who recently moved to Hoylake from Liverpool).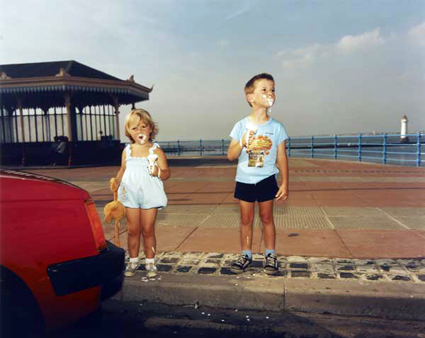 © Martin Parr, The Last Resort
A £70 million redevelopment plan for the regeneration of New Brighton was unveiled in 2004, with the aim of bringing jobs and tourism into the area. Known as the Neptune Project, it involved filling in the Marine Lake to build a supermarket, and constructing a lido resort combining a pool and a new marine lake. However the plans were rejected on account of financial feasibility, and scepticism over the actual worth to the community on the whole. In October 2007, the Government rejected a public enquiry into the plan, and an amended plan was approved, which will include a Morrisons supermarket on the seafront, budget hotel and refurbishment of the Floral Pavilion Theatre.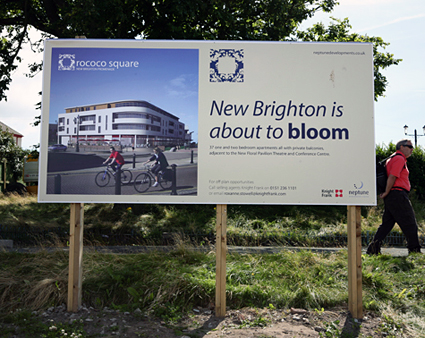 While it's great that the area has managed to develop and shed its tatty appearance, as is so often the case these days, the re-development is very bland and non-descript. You could be on any promenade in England, there is no individuality just lots of concrete. Although I'm sure New Brightoners are much happier than the resort of Parr's photographs.
As an aside, there's an interview with Martin Parr in the current issue of PDN called 'Why Photojournalism Must Get Modern'. In the interview Parr argues that photojournalism "has to get modern" to regain the attention and support of mainstream magazines. He asserts, "You have to disguise things as entertainment, but still leave a message and some poignancy."  You can read it  online here.