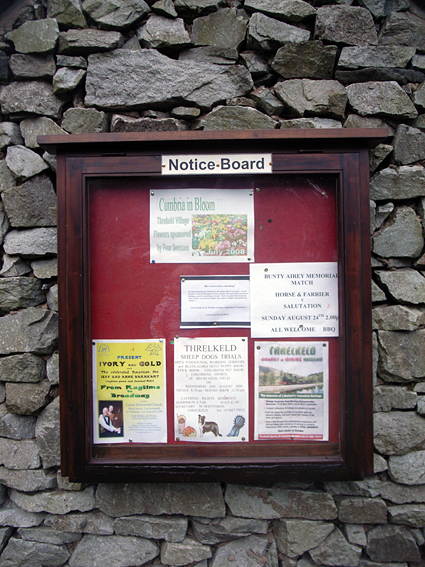 I've found the community noticeboard – often found outside shops, churches and village halls, as well as in the local newspaper – a valuable resource, both in terms of finding out about events happening during my stay but also as a gauge of local interest.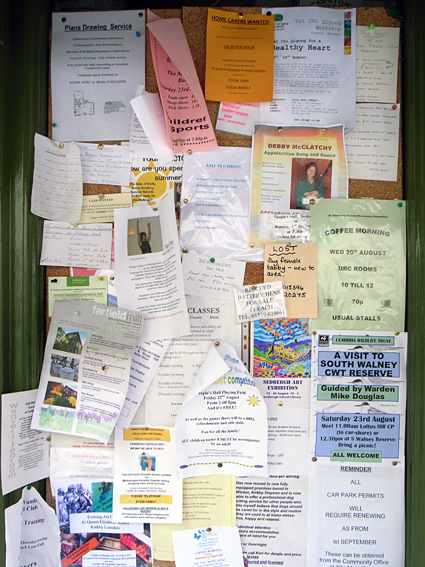 For instance, here are a few events listed in the Whitby Gazette, August 12th –
St Hilda's Church garden party will be held in the grounds of the Old Recotry in Sneaton by kind permission of Ian Buckle, today at 2.30pm. There will be the usual stalls, tombola and competitions and farmhouse teas will be served int eh village hall.
The Goathland Walking Group meets at the shops on Thursday at 10am.
Sleights Horticultural and Industrial Society will hold its 127th annual show on Saturday on Sleights sportsfield, Lowdale Lane, 1.30-4pm. Admission adults £1.50, children 50p, concessions £1.
Whitby Young Farmers' Club sponsored walk in aid of Pancreatic Cancer UK – Gallon walk from Mallyan Spout, Goathland is on Friday, for sponsor forms and details contact Kathryn on 810202.
The Dalesmen are holding their annual garden party on August Bank Holiday, Monday 25 August, 10am-4pm, at Waites House, Goathland, the home of the choir's president, Audrey Smith. Admission is free but cream teas are available for purchase throughout the day. There will be a cake, plant and bric-a-brac stalls and a tombola. The Dalesmen Singers will be doing two singing spots during the day at noon and 2pm.
Robin Hood's Bay Bowling Club Tuesday afternoon whilst drives taken place at 2pm in the bowling club. New players welcome.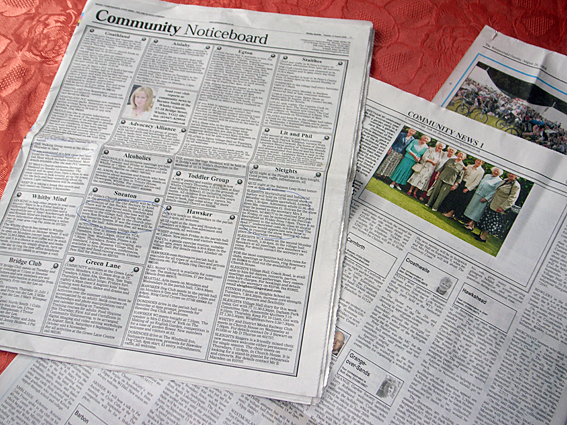 And in a round-up of last week's events The Westmorland Gazette, August 29th, reports –
Despite the recent poor weather, the Barbon and Middleton Flower Show had more entrants than usual. A new class for oven-baked cakes by men only was well supported, and for the first time a visitors' choice was held and was won by Janet Greenwood with a knitted Herdwick wool throw.
Beetham WI celebrated its 90th anniversary year with a garden party in a member's garden. Jane Binney, vice-chairman of the Cumbria-Westmorland Federation, gave a resume of the 90 years of its existence, and thanked past and present presidents and members for their help in keeping alive a worthwhile institute.
Kendal Fellwalkers explored the fells near Wasdale during their B walk. From the roadside near Santon Bridge, they climbed to the little-frequented summit of Irton Fell. There were good views of Wastwater as they made their way along the grassy ridge above the Wastewater screes.
Geoff Harrison won the Bowling Leasgill Trophy in a closely fought contest. Gordon Coleclough was runner up.
The latest STEPS walk was through Trowbarrow Quarry to Hazelslack Tower and back via Haweswater. Those take part saw dragonflies, butterflies and hardly any people.