Although the exhibition ends today, I wanted to give a quick plug for Henry Iddon's photographs taken in the Lake District. Spots of Time have been on display at the Wordsworth Trust gallery at Dove Cottage, Grasmere, since March 2008.
Blackpool-based photographer Iddon spent 18 months perched on fell tops throughout the night to capture the effects of artificial light at different times and seasons. Bright clusters of streetlamps and house lights dot the unusual images of the English Lake District, with the wider orange glow of major towns such as Barrow-in-Furness diffusing the night sky behind.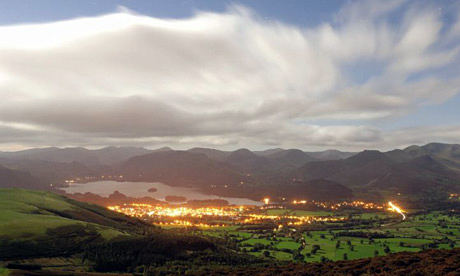 Keswick and Derwent Water seen from the slopes of Skiddaw taken at 11.22pm, when sunset was 7pm. © Henry Iddon
Lord Smith of Finsbury, chair of the Wordsworth Trust and former Culture Secretary, said that the photographs achieved the unusual feat of seeing one of Britain's most exhaustively recorded landscapes through new eyes. He said: "They show us the bright, glowing, night-time impact of humankind, but set within the immensity of the broader landscape. No-one can look at them without being moved to ponder on the relationship of reverence and of interdependence that we ought to foster with the natural world around us."
Don't worry if you don't make it to the exhibition today – I felt the lighting in the gallery really let the prints down – Iddon has produced an impressive website for the project. View it here.