September 22nd, 2008 admin
Wherever possible I bought a copy of the local newspaper in all the places we visited in order to explore the context within which my photographs were taken. More about this in a later post. For now, I want to talk about how visual media has become integral to our exposure to representation of death. 
As with much of our mass media, the negative story often helps sell a newspaper. These were two headlines I came across on newspaper billboards in recent weeks, one from Berwick upon Tweed and another from Cumbria.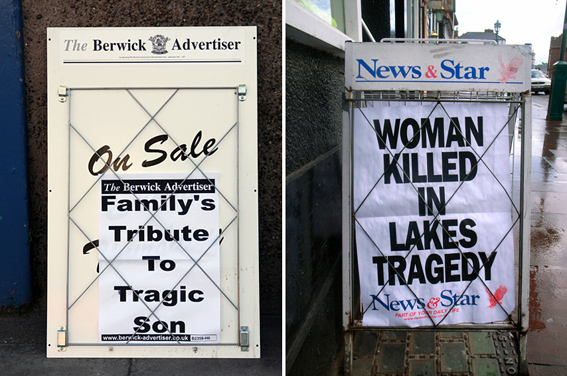 They reminded me of a project I worked on a few years ago called 'Death, Read All About It'. I became interested in how we witness death daily, but at a safe remove, on the news and in the newspapers, where anything too challenging is excised in the editing suite. The school photograph of the murdered child, the mangled metal of the crash with none of the carnage – these homogenised accounts of violent death, like fictional death in films and books, reinforce distance from 'natural death'.
Over the course of a year I photographed newspaper billboards, mostly around London where I was living at the time, which dealt with the subject of death. With all these headlines the topic of death, often described in grizzly soundbites, was used to sell our daily news. Headlines such as: "Man's Head Cut Off In DLR Train Horror", "Baby Savaged To Death By Dog", "Victim of Black Magical Sex Killer" and "Shallow Grave Woman Battered To Death." In some cases, we are also tempted by the fact that photographs are available: "McVeigh Ready to Die – Pictures", "Child Victims Of Suicide Bomber – Picture" and "Hanratty Body Exhumed – Picture."
I collected forty-nine headlines and created a composite the shape and size of a newspaper billboard. My intention had been to the place them in Evening Standard billboards around London, however, I got cold feet, worried about being prosecuted!
Here is a small version of the composite-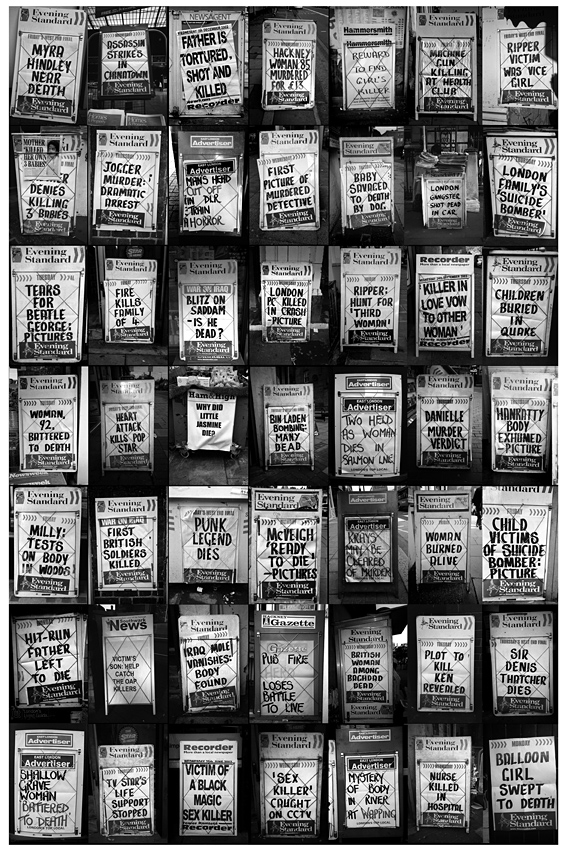 The aim was to explore how death is portrayed as entertainment, as sound bites and soap opera. This interplay between private and public experience often confers a false sense that we are sharing the drama of death in other people's lives, while in reality we are completely insulated from it.