Continuing my Easy Rider series, I'm now going to turn to the work of two German photographers who have produced studies of their homeland and whose work I've found particularly inspiring. They are Joachim Brohm with his book Ruhr (Steidl, May 2007) and Peter Bialobrzeski with his book Heimat (Hatje Cantz, out of print).
In this post, I'm going to look at the book Ruhr.
I was introduced to the work of Joachim Brohm by Marcus Schaden in Arles last year. Marcus was very excited about Brohm's recently published photographic series, which documented the German Ruhr area during its industrial decline from the late 1970s to the mid-80s. And I could see why, it's a superb book. The photographs have a freshness to them, while retaining a clear and focused aesthetic. There are 50 pictures in total, the earliest going back to his photographic training at the Essen Folkwang School from 1977, and an insightful introductory essay (Topographies of Anonymity) by Heinz Liesbrock.
One of the most interesting aspects of this work is the fact that Brohm became one of the first to engage with the issues raised by American photography – the landscape photography of the nineteenth century and the topographical photography from 1970 onwards – and transport them into a European context. As a result, Ruhr is an integral link between USA and European photography (or as Liesbrock describes it "a cross fertilisation") and its special significance is revealed with this first complete monograph.
Bochum, 1983 © Joachim Brohm
Liesbrock sees the work of Brohm, along with Michael Schmidt and Heinrich Riebesehl, as among the first European photographers to engage intensively with the aesthetics of American photographers like Robert Adams, William Eggleston and Stephen Shore. He writes: "All of them understood the gaze of the American photographers as a framework in which they can deal with questions from their own German cultural context, and this is why it is not by chance that they all begin their engagement with the Americans in the familiar context of their immediate home environment." For Schmidt this is Berlin, for Riebesehl the agrarian landscape of Lower Saxony, for Brohm it is the Ruhr. This engagement with American photography, which today is recognized as classical, was at that time a matter for a select few.
In describing Brohm's aesthetic, Liesbrock writes: "At first sight there are two aspects in particular that catch our attention. First the directness of the photographic gaze with which he addresses the visible and the unpretentious way in which he translates it into a restrained compositional structure….The pictorial aesthetics developed by Brohm are intentionally kept close to amateur photography. A second important aspect of his conception of the image is his use of colour. For a photographer with artistic ambitions to use colour as a medium was still the exception in Europe around 1980….Brohm's Ruhr, as we encounter it in his pictures, is also characterize by this wish to expose specific pictorial energies in the banal, the seemingly expressionless." Later on in his essay Liesbrock describes Brohm's use of colour as a "restrained colouration to reflect the uneventfulness of the scenery of the Ruhr as a place where nothing happens…He develops colour into a stylistic feature devoid of any strident notes….The colour seems flat, it has no radiance but rather remains self-contained."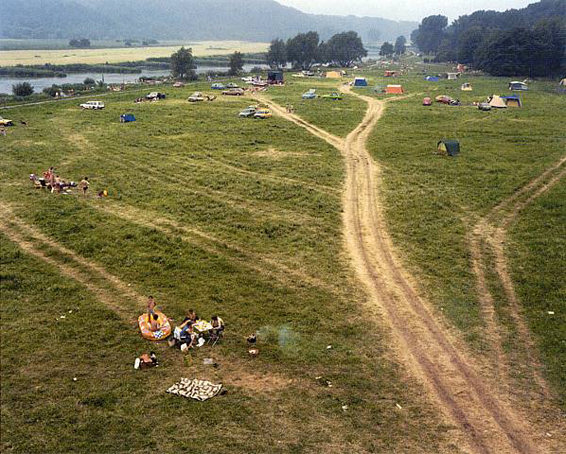 Bochum, 1982 © Joachim Brohm
To a large extent Brohm turns his gaze on urban life at the edges of the Ruhr, where existence tends to have a rural feel, where shopping centres and small business zones have established themselves. As Liesbrock puts it "a placid zone of seemingly uninterrupted leisure time." Brohm observes people from a distance, avoiding intimate perspectives and arranges expressions of human activity in harmony with the architecture and the landscape. An elevated camera position is a common theme. "People seemed safely at home in it, in fact lulled into repose, inconsequential, they have no echo. This familiar, everyday ambience assumes a form of quiet monumentality" says Liesbrock.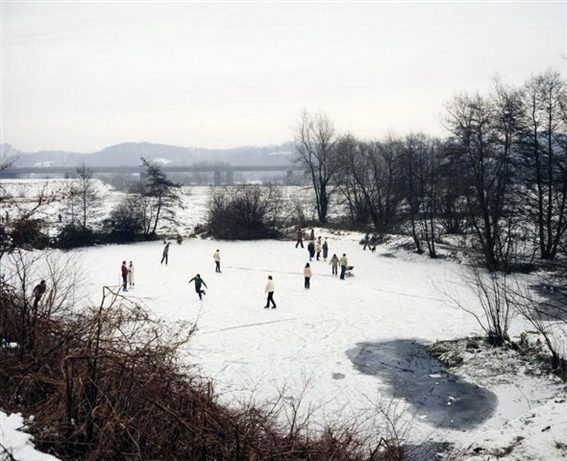 Essen 1982 © Joachim Brohm
Liesbrock closes his essay by describing Brohm's significant contribution to recent photographic history and explaining why his work has gone unacknowledged for so many years (overlooked by the large-format colour photography that had been developed in Bernd Becher's class in Dusseldorf that became the centre of attention – works of Andreas Gursky, Thomas Struth…) and has only now been published, twenty years after the photographs were taken. He writes, Brohm's work "constitutes a central link between photography in the USA and Germany since 1970. Anyone looking at the sequence of pictures in this book, will also discover in Ruhr a work of unmistakeable artistic vitality, which will be of lasting significance, independently of all historic coordinates."
Joachim Brohm, born in Dülken, Germany in 1955, studied visual communication and photography at the University of Essen and at Ohio State University in Columbus, Ohio. He has had one-man shows at Fotoforum Bremen; Spectrum Photogalerie in the Sprengel Museum, Hannover; Museum Folkwang in Essen; and Fotomuseum in Munich. Brohm lives in Essen and Leipzig.
If you want to see more of Brohm's work, he's published two further books with Steidl, Areal and Ohio.