"The objective history of England doesn't amount to much if you don't believe in it, and I don't, and I don't believe that anyone in these photographs does either as they face the reality of de-industrialisation in a system which regards their lives as disposable. To the people in these photographs I am superfluous, my life does not depend on their struggle, only my hopes. This is a subjective book about my time in England. I take what isn't mine and I covet other peoples lives. The photographs can tell you more about me than about what they describe. The book is a fiction about metaphor." Chris Killip, Foreword to In Flagrante, 1988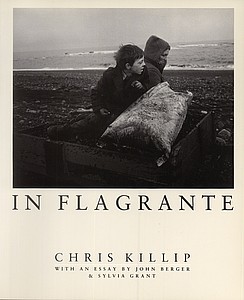 In Flagrante jacket cover (First Edition)
I have to admit I'm slightly embarrassed that it's taken me this long to write a post on what is often described as the most important photobook to come out of England in the 1980s. Better late than never!
In Flagrante by Chris Killip (Secker and Warburg, London 1988) has long been on my list of most wanted photo books, but has always eluded me, mainly thanks to it's price tag. A first edition currently sells for around £380.00 (and there's a copy available here if you're interested). Instead, I've just bought a copy of the recently published edition In Flagrante: Books on Books #4 (Errata Editions, 2009), which arrived in the post this morning.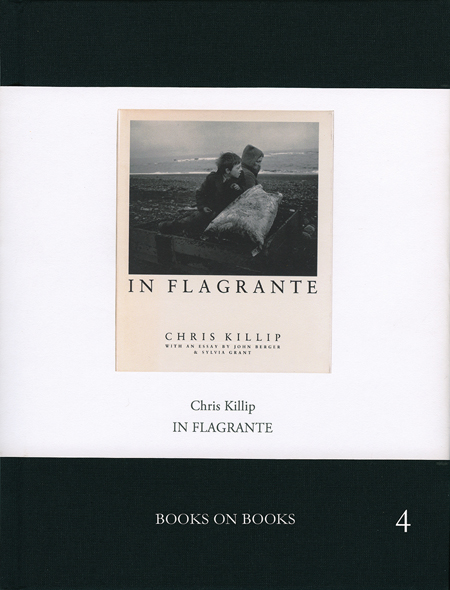 Jacket cover for In Flagrante, Books on Books
Errata Editions' Books on Books series is an ongoing publishing project dedicated to making rare and out-of-print photography books accessible to photobook enthusiasts. These are not reprints or facsimiles but complete studies of the original books. Each volume in the series presents the entire content, page for page. This edition reproduces the original essay by John Berger and Sylvia Grant ('Walking Home') and also includes additional texts by Gerry Badger ('Dispatches from a War Zone') and Jeffrey Ladd ('The Making of In Flagrante').
Here are some of the sample page layouts from the Errata Edition (which unfortunately have none of the richness of the original):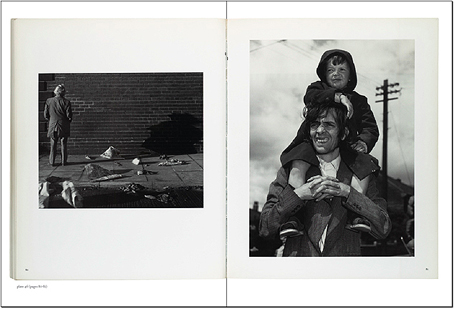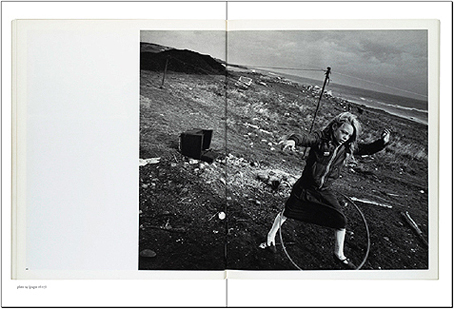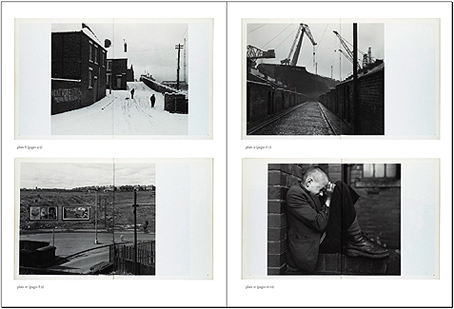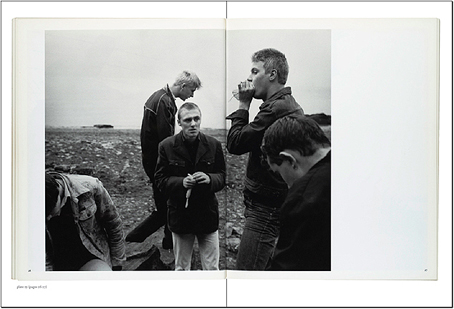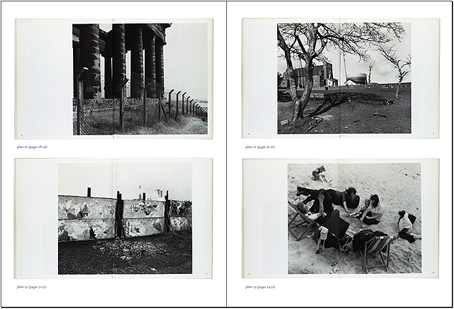 The publisher notes at the time described In Flagrante as "a book of fifty photographs by one of Europe's most outstanding and uncompromising photographers. The impact of these images is both immediate and enduring, creating one of the most authoritative and intense bodies of work produced this decade. This view of Britain in the eighties reflects the stark reality of industrial society in decline."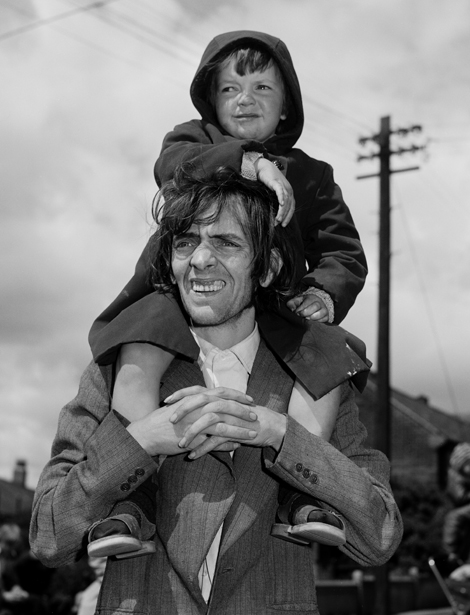 Father and Son, West End, Newcastle-upon-Tyne, Tyneside © Chris Killip, 1980
In Flagrante describes the communities in Northern England that were devastated by the deindustrialisation common to policies carried out by Thatcher and her predecessors starting in the mid-1970s. The book was accompanied by an exhibition at the V&A in London. It's worth noting that the photographs intially came out of a joint exhibition in 1985 entitled 'Another Country', that Killip made with his close friend, the photographer Graham Smith.
Angelic Upstarts at a Miners' Benefit Dance at the Barbary Coast Club, Sunderland, Wearside © Chris Killip, 1984
Photo-historian and critic Gerry Badger, describes it as "a fully realized photo-book by a British photographer; complex, subtle, allusive. It was in the documentary mode, that is to say, realist in tone, but realism shot through and through with a powerful and insistent personal inflection. For Killip, it achieved a long-term goal to make photography which might be perceived in a literary, cinematic way, with a narrative flow, however oblique, and the work of art was the book itself." (Quoted in Chris Killip, Phaidon 55).
Christopher David Killip was born on 11 July 1946 in Douglas, Isle of Man. Killip moved to London in 1964 and worked as an assistant to the advertising photographer Adrian Flowers. He soon went freelance, but in 1969 stopped his commercial work to concentrate on the photography that he wanted to do. The inspiration of this is often cited as a visit to the Museum of Modern Art in New York where he discovered the work of Paul Strand and Walker Evans. Indeed Killip is quoted saying "In the sophistication of the MoMA's permanent collection I discovered the context for their work. The fact that photography had a relevant, pertinent history" (Interview with Gerry Badger, Books on Books 4).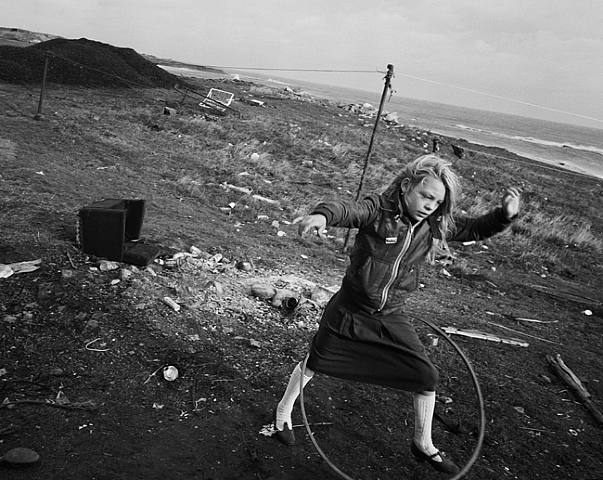 Helen and Hula-hoop, Seacoal Beach, Lynemouth, Northumberland © Chris Killip, 1984
In 1970 Killip moved back to the Isle of Man, photographing it extensively. Two years later he was commissioned to photograph Bury St Edmunds and Huddersfield, and in 1975 he won a two-year fellowship from Northern Arts to photograph the northeast of England; Creative Camera devoted its entire May issue to this work. During the early 1970s he became the founder, exhibition curator, and advisor at the Side Gallery, Newcastle, and worked as its director from 1977-79.
The photographs for In Flagrante were all made in black and white, on 4×5 film. They hold to the documentary rather than the formalist wing of modernist photography. The book was well received on its publication in 1988, but Killip's kind of black and white documentation of the underclass was going out of fashion quickly in Britain, as photographers used color to show consumerism and for consciously and explicitly artistic purposes. (Somewhat ironically perhaps, Killip was approached by Pirelli U.K. which thought that he might photograph its tire factory in Burton. The resulting work was published in book form only in 2007 – Pirelli Work, Steidl).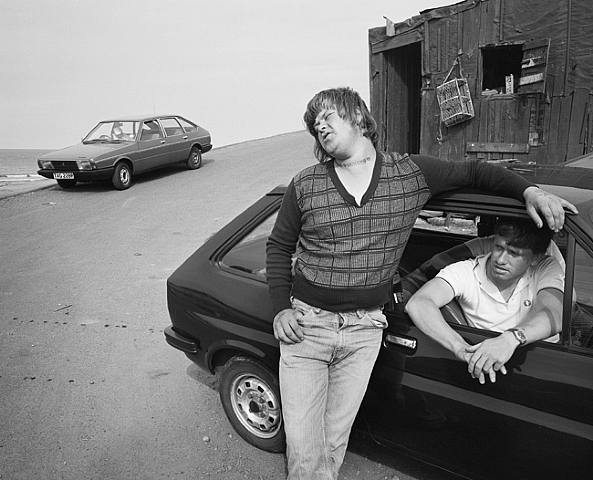 Bever, Skinningrove, North Yorkshire, 1980 © Chris Killip
In Killip's photographs the bleak landscape of the North East becomes an extension of its human subjects, underscoring the harshness of their lives. Some of his most memorable pictures in In Flagrante are taken in the North Yorkshire fishing village of Skinningrove (see above and below). Skinningrove is a fishing village between the Tees conurbation and the picturesque fishing port of Whitby. Badger describes the portrait of Bever as "demonstrating a perhaps muted, but palpable violence. And there is an undercurrent of conflict and threat throughout much of In Flagrante, which make the book's rare moments of tenderness all the more effective."
Killip photographed on the Skinningrove foreshore on several occassions over the course of three years, often spending long periods of time getting to know his subjects. Crabs and People (below) is for me, Killip's most striking and enduring images. Beautiful, disturbing and compositionally brilliant. It's an image that asks as many questions as it does provide answers.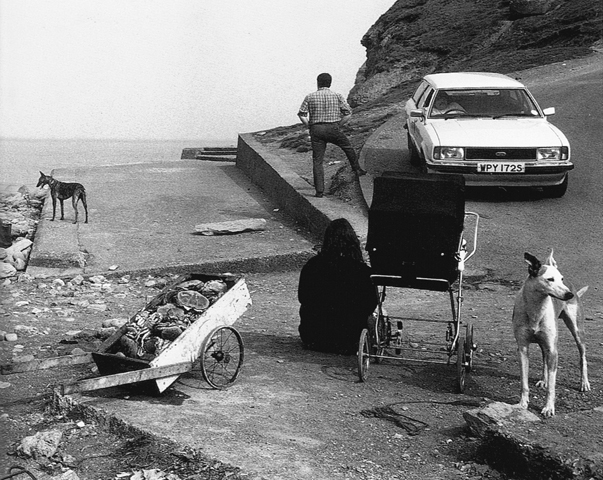 Crabs and People, Skinningrove, North Yorkshire © Chris Killip, 1981
"Chris Killip is not a sociologist with a camera, nor a historian. He is an artist, a poet, with a compulsion to enter people's lives and try and make something of them. To understand them perhaps. To share his compulsion with us – undoubtedly. To assume the role of advocate – possibly. Or maybe it is all an attempt to reveal something else, both known and unknown." Gerry Badger (Quoted in Chris Killip, Phaidon 55).
I've been looking around the web for any interviews where Killip discusses his work, but without any success. I did come across this quote where he comments on a photograph by Boris Mikhailov which was included in the Tate Modern's Street&Studio exhibition.
"I was shocked when I first saw this work, and shocked when I returned to ponder on these slyly referential, snapshot-like photographs, now blown up on the gallery wall. Boris, how apt. This compelling work cannot help but raise the question: what is a photograph and what is its purpose? The self-congratulatory smugness of most photographic offerings has lulled me into a very low level of expectation. The bulk of photographic work produced for galleries, produced for Hollywood, produced for the art scene is geared to an audience. It is self-censored, and its reception (such a strong American concern) is second guessed. No wonder that most of current photography is so devoid of content. I mean, perfectly seriously, who is going to buy Mikhailov's work? Masterpiece it might be, but who wants to be reminded so forcefully by content that actions always have consequences?"
Killip currently works as Professor of Visual and Environmental Studies at Harvard University in Massachusetts, USA.