September 14th, 2009 admin
I spent yesterday hitting some of the new photography shows that opened this week in Manhattan (see my last post). One of the highlights was 'Nature as Artifice: New Dutch Landscape in Photography and Video' at Aperture gallery.
If you're in New York, it's well worth a look. Of particular interest are Edwin Zwakman's huge color prints (see image below). Although deceptively realistic, they are in fact miniature sets created and photographed in a studio. Gert Jan Kocken records the aftermath of a factory explosion in the town of Enschede through photographs made from the same vantage every few years. It's also great to see Hans van der Meer's football photographs.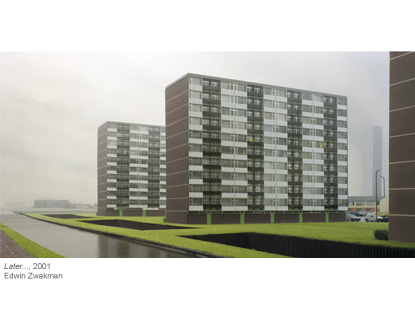 Here's the blurb-
"In keeping with the golden age of Dutch landscape painting four hundred years ago, a new visual statement on the landscape has emerged from the Netherlands. Expressed through the modern mediums of photography and video art, this new imagining of the Dutch landscape is urbanized and altered, depicting the Netherlands as the most artificial country in the world.
Coinciding with the 400th anniversary of the arrival of Henry Hudson to New York Harbor aboard the Dutch vessel Halve Maen, Aperture Gallery is pleased to present this show curated by Maartje van den Heuvel, a major survey of new work by contemporary Dutch artists who, over the past twenty years, have taken contemporary Holland as their point of departure.
Affected by a global reordering of production and industry, the agrarian function of the Dutch landscape is making way for suburbanization, recreation, industrial and business parks, and transportation infrastructure.  "The country is in the throes of a continual process of spatial planning and reorganization," said van den Heuvel. "The radically artificial nature of things like greenhouses, waterworks, polders with gleaming new designer cities, and geometrically patterned nature areas… often imbue the Dutch landscape with a distinctive visual appeal."
The exhibition features the work of Hans Aarsman, Wout Berger, Henze Boekhout, Driessens & Verstappen, Marnix Goossens, Arnoud Holleman, Gert Jan Kocken, Jannes Linders, Cary Markerink & Theo Baart, Hans van der Meer, Gábor Ösz, Bas Princen, Xavier Ribas, Gerco de Ruijter, Frank van der Salm, Hans Werlemann, and Edwin Zwakman.
WHEN AND WHERE:
Exhibition on View:
September 10-October 15, 2009
Monday—Saturday, 10:00 a.m.—6:00 p.m.
Aperture Gallery
547 West 27th Street, 4th floor
(between 10th and 11th Avenue)
New York