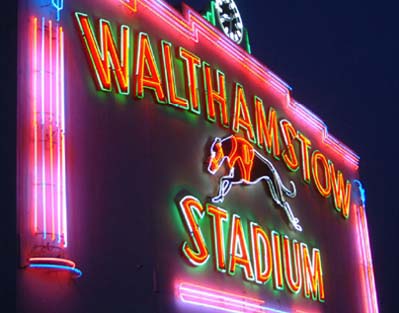 "Walthamstow Stadium is now Closed
The last race greyhound meeting was held at the stadium on Saturday 16th August 2008.
The Chandler Family would like to take this opportunity to thank all their staff & customers for 75 years of great service."
This is the notice that now appears on the homepage of Walthamstow Stadium's website. It's incredibly sad to hear that the greyhounds raced around Walthamstow Stadium, in northeast London, for the final time on Saturday night. 
The closure of Walthamstow now leaves Britain with 29 registered greyhound tracks, and London with only one – Wimbledon. At the sport's postwar peak, 50 million a year packed into 77 tracks. But the shift to betting in shops and online has hit tracks hard. Despite £2.3 billion a year gambled on greyhounds, turnover at the Walthamstow tote fell from £16.85 million in 1989 to £8.76 million last year. Before the sale was announced three months ago, attendance at the Stow had slumped to a couple of thousand on Saturday and a couple of hundred on a wet Tuesday.
The Stow, as it was affectionately known, was built in 1933 by William Chandler, a street-corner bookmaker, and had been owned by his family until its sale this year to property developers and a housing association for an undisclosed sum. The decision caused a lot of bad feeling, but the Chandlers point to losses of more than £500,000 for the year ended February 2008. Charles Chandler, the company chairman, said that he was deeply upset, but the business had become unsustainable.
The early appeal of greyhound racing to Britain's working men is easy to explain, says Lord David Lipsey, a Labour peer and chairman of the British Greyhound Racing Board: "At that time, a working man couldn't get a legal bet except at a dog track – he couldn't get credit at a bookmakers. Greyhound tracks were also a lot cheaper to get into than racetracks, and far easier to get to." The sport, Lipsey says, is "deeply embedded in a certain kind of cultural life." Even before it closed, entrance to a weekday night of racing in the Popular Enclosure at Walthamstow is yours for a quid (and free for under-15s).
TS Eliot argued, in Notes Toward a Definition of Culture, that for a nation's culture to be truly complete it must be composed of the high and the popular variety – of Derby Day at Epsom, the Glorious 12th, and a night at the dogs.
North London has lost a place of popular culture to be replaced, no doubt, by a bland housing estate which will offer little to the local community.