After writing my The Turner Effect blog entry I was reminded of John Taylor's book A Dream of England. In the book Taylor talks about how the tourist industry uses heritage and draws on poets and novelists to advertise places – Shakespeare Country around Stratford-Upon-Avon (also branded England's England), Bronte Country in Yorkshire, Hardy Country in Wiltshire and Dorset, Catherine Cookson Country in Tynesdie and Beatrix Potter tourism in the Lake District.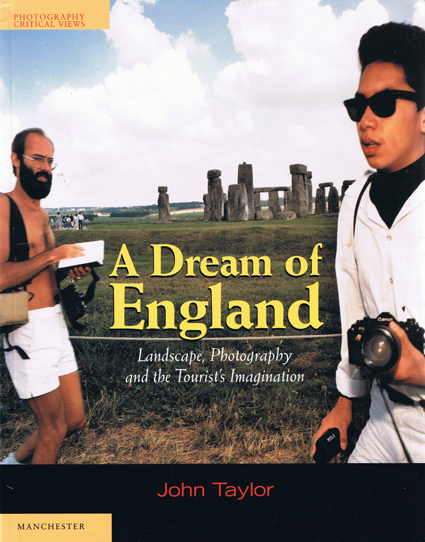 In a chapter titled 'Pleasures of the Imagination' Taylor looks at the work of photographers who have adopted a "quizzical stance in relation to the kinds of photographs which tourists produce or which are produced for them in guidebooks." Photographers who "express doubts about the imagine community of England fashioned in the image of the dominant white middle class." Taylor terms these individuals, 'oppositional photographers', and he includes bodies of work by Martin Parr (Cost of Living),  John Kippin (ENGLISHISTORY), Karen Knorr (Monks of Disfunction), Ingrid Pollard (Pastoral Interludes) and Paul Reas (Flogging a Dead Horse).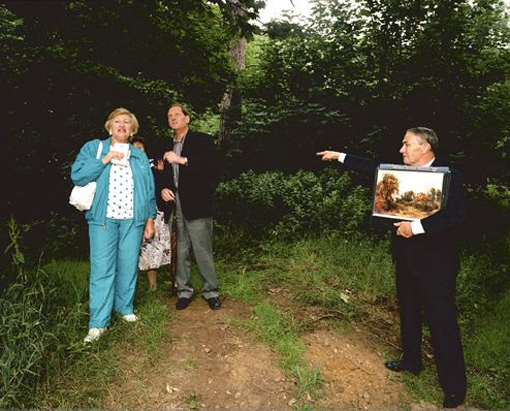 © Paul Reas
In Flogging A Dead Horse, Paul Reas photographs the tour guide who carries a reproduction of Constable's original Flatford Mill painting and is seen indicating the area which Constable actually painted, thereby overcoming the tourists fear of failing to see the desired spot. Reas' work is a biting criticism of the heritage industry, an industry which Taylor suggests "represents a break with a politicsed and complex historical appreciation of contemporary English life." Heavyweights such as English Heritage and National Trust use entertainment to display history, but a sanitized version which is just a representation of the past, clinical and doesn't present contradictions or context.
You can see more of Reas' work from Flogging a Dead Horse (Pub: Cornerhouse/Arts Council, UK 1993) here.