November 28th, 2008 admin
"I know of no other presentation of a particular place and people which is a broad and as captivating as James Ravilious's photographs of North Devon. They are the fruit of a quite exceptional acuity and patience of witness and of a quite unusual humility and warmth of spirit. This great body of work establishes its author as a master of the art of photography whilst at the same time it makes an unparalleled pictorial contribution to social history." Olive Cook, Matrix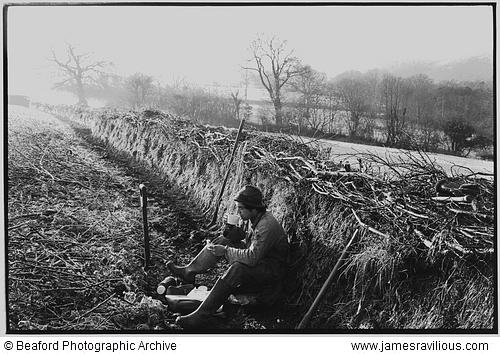 Stephen Squire, hedger, taking a tea-break, Langham, Dolton, England, 1980
Jeremy Sutton-Hibbert has just alerted me to the work of photographer James Ravilious. James amassed a huge archive of images depicting rural England and rarely photographed more than 10 miles from his home. In 1997 he was given Honorary Membership of the Royal Photographic Society in recognition of his contribution to photography. He died of lymphoma in 1999.
Here is a biography for James taken from his website-
"James Ravilious was born at Eastbourne, England, the second son of Eric Ravilious, the war artist, wood-engraver and designer. James studied art at St Martin's School of Art, London, and then taught painting and drawing in London for some years. He married Robin Ravilious (daughter of the glass-engraver Laurence Whistler) in 1970, and in 1972 they moved to Devon to live in a cottage near her family home in Dolton. They had two children: Ben and Ella.
In the early 1970's James took up photography (self-taught), having seen its potential in the work of the great French photographer Henri Cartier-Bresson. Now John Lane, director of the arts centre in the neighbouring village of Beaford, invited James to contribute some work to the newly set up Beaford Archive, intended as a photographic record of life in a largely unspoilt, but vulnerable, country area. What started as a short-term project grew into a seventeen year obsession. In that time James took over 80,000 black and white images of all aspects of local life: landscape, farming, everyday life in the local towns and villages, and their special occasions. He also borrowed and copied over 5,000 early photographs of the same area.
The resulting historical span, and detail, he gave to the Archive makes it probably the most intensive record of any rural area in England. But it is more than that. Though never posed, James's pictures are composed with the eye of an artist, and they capture subtle qualities of light – the result of years of experiment with pre-war Leica cameras and uncoated lenses. Above all, they are warmed by his affection and admiration for the people whose lives he recorded. His pictures reveal real life as it was being lived in late 20th century rural England when the country traditions that have been handed down for hundreds, if not thousands, of years were still part of everyday existence."
You can find a selection of his photographs here.