February 12th, 2009 admin
"Fay Godwin is one of our best known landscape photographers, a master of scenery in black and white, and incidentally, working out in photography a long-tradition of subtly depicting the politics of the British countryside." Chris Townsend, Hot Shoe , July 1999
Following on from my recent posts about photographers looking at the politicised nature of the English countryside (Dark Days and Tomorrow We Enter Paradise) I want to turn to the work of noted British photographer Fay Godwin (17 February 1931 – 27 May 2005). A photographer who, having established herself in portraiture, became known for her black and white landscape photographs which often had a political strand. Indeed in later years her photographs became a more overt criticism of the environmental damage and access restrictions imposed on the land, across England.
Influenced by Bill Brandt and Paul Strand, she looks for the narrative in her landscapes, choosing to record man's relationship with the environment.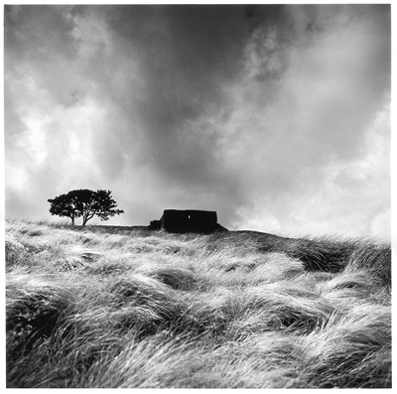 Top Withens, Calder Valley © Fay Godwin, 1977
"I had no aspirations to become a landscape photographer at all. In fact it was portraiture that was my beginning, I suppose. I have always been a very keen walker, though, and I often took a camera with me on my walks. But I was, and still am, an avid reader and so when I first started I chose to photograph many of the great writers in this country to try and earn a living." Fay Godwin, 2004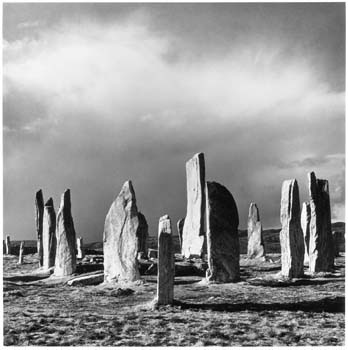 Callanish after hailstorm, Lewis © Fay Godwin, 1980
Godwin was self-taught, her interest developed during the 1960s through taking pictures of her young family. Having established herself in literary portraiture, she moved onto publishing her landscape work in a series of walkers' books (see full list here). In 1978, she received an award from the UK arts council, and her best known exhibition 'Land' was shown at the Serpentine Gallery in London, 1985, and is regarded by many as the finest study of British landscape ever published setting new standards in British landscape photography.
While I appreciate Godwin's landscape photographs, the images I'm really drawn to are those which present a dry humour and, much like Tony Ray-Jones, a keen eye for the quietly absurd. Here are some of my favourite photographs, which can be found in the 'snaps' section of her website: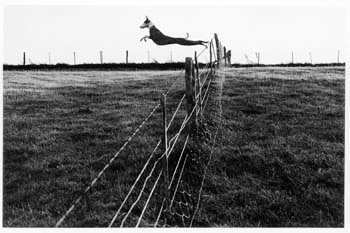 Leaping lurcher © Fay Godwin, 1972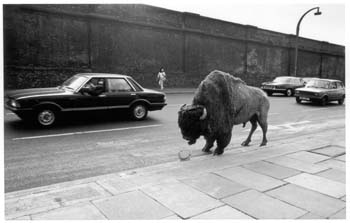 Bison at Chalk Farm © Fay Godwin, 1981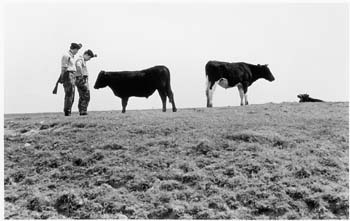 Soldiers and bullocks, Romney Marsh © Fay Godwin, 1973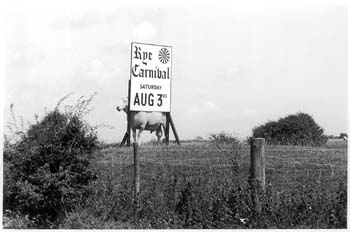 Rye Carnival © Fay Godwin, 1985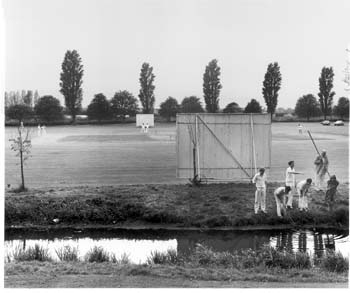 Cricket at Sandwich © Fay Godwin, 1981
From 1979 Godwin started experimenting in colour, which eventually led to a deliberate attempt to move out of the black and white landscape genre. This was helped through a Fellowship at the National Museum of Photography, Film and Television, (Bradford 1987/8) culminating in an exhibition 'Bradford in Colour'. During the early 1990s, Godwin's eventual move to colour close-ups was widely misinterpreted as a necessity due to failing health, rather than creative progression. Godwin's own view was: "Because in a dreary British way, I had been pigeon-holed as a black and white photographer and at my age it was not permissible to move on."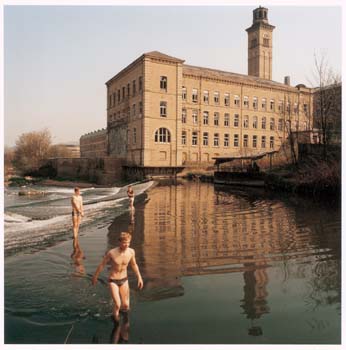 Boys in River, Salts Mill © Fay Godwin, 1987
"I've always been interested in our relationship with the land. There is so much of great beauty and historical interest, but when I look at the British Isles I am also angered and saddened by the relentless butchering of our heritage by money-grabbing corporations." Fay Godwin, 2004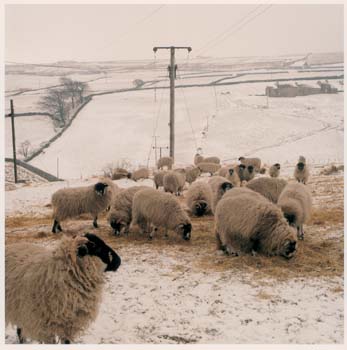 Ponden Moor © Fay Godwin, 1987
In 2001 Godwin was honoured with a major retrospective, 'Landmarks' at the Barbican Centre, in London. Landmarks went on to tour internationally. An associated book was published by Dewi Lewis.
"I don't get wrapped up in technique and the like. I have a simple rule and that is to spend as much time in the location as possible. You can't expect to take a definitive image in half an hour. It takes days, often years. And in fact I don't believe there is such a thing as a definitive picture of something. The land is a living, breathing thing and light changes its character every second of every day. That's why I love it so much." Fay Godwin, 2004
Interestingly I came across this photograph by Godwin: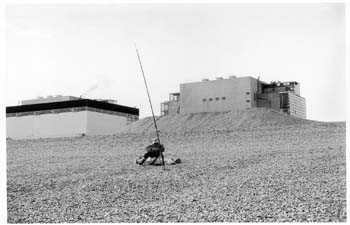 Sleeping Fisherman, Dungeness © Fay Godwin, 1974
Which reminds me of a similar photograph I took last summer for We English: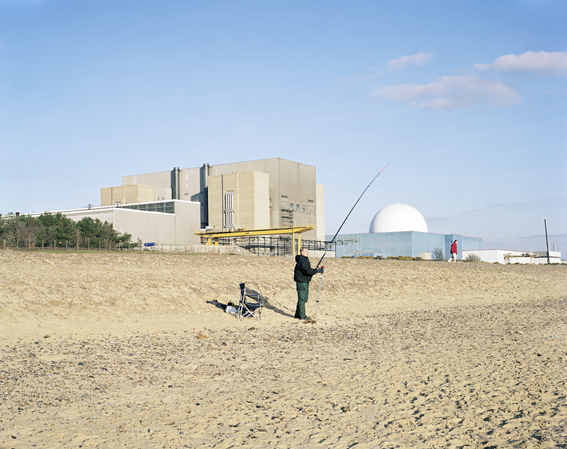 Fisherman, Sizewell Power Station © Simon Roberts, 2008
You can read a longer biography of Godwin here and the last interview she gave with David Corfield for Practical Photography in December 2004 here (where her quotes are taken from above).