I've just come across details of an intriguing new book published by Dewis Lewis called In A Very English Town.  John Comino-James has photographed the streets, shops and shopkeepers in the centre of Thame, an historic market town some 45 miles from London. Comino-James studied his local town after being asked by a Cuban friend to show her life in his area. His series of panoramic photographs were taken between July 2007 – June 2008 and are laid out in the book in a sequence representing a meandering walk through the town.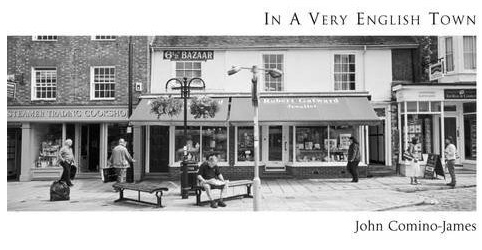 £19.99
Hardback, 168 pages
110 duotone photographs
160mm x 295mm
Here are the publishers notes on the book-
"High Street, Buttermarket, Cornmarket, Pump Lane, North Street, Park Street, have such a deceptive familiarity to the English ear that they might be found in any English town. They are names that suggest a sense of continuity and tradition – something very English. Yet the reality is often not quite what it appears.
Portraits, texts and candid photographs which document everything from the last cattle market operating in the area, travelling showmen at one of the two annual fairs, and the weekly street market. The accompanying interviews reveal pride in the continuation of family businesses, as well as small enterprises both challenged by and benefiting from the increasing impact of the internet.
While the presence of supermarkets and services such as banks, travel agents and estate agents is acknowledged, in choosing subjects for portraits Comino-James was drawn to those shopkeepers whose aim might be summed up in the words of one of them: 'To keep the character of Thame as a Market Town and not a Supermarket town'."
You can see a slideshow of photographs on the Guardian website here.