As I've mentioned a few times on the blog, this is an exciting time for photographers documenting England (and long overdue). One photographer mid-way through a journey around the country is John Angerson, whose pictures I posted up on an earlier blog post here. I emailed Angerson a few questions about his project which he's been kind enough to answer below.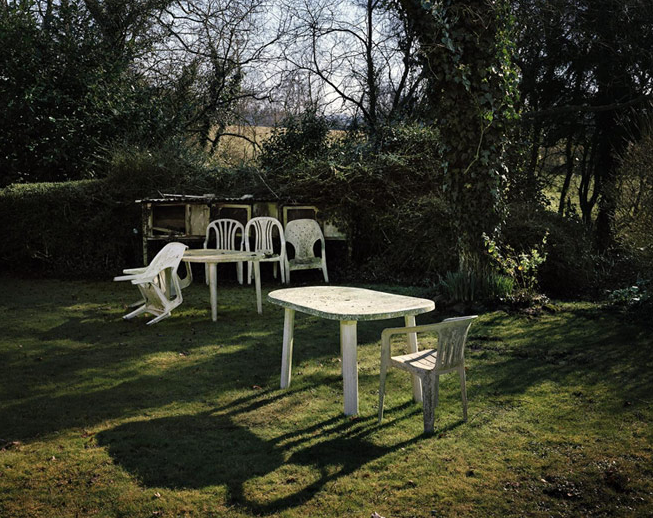 Newport Inn Public House, Braishfield, Southampton © John Angerson, 2008
Why have you chosen to follow in the footsteps of JB Priestley? What is it about his book that you associate with, instead  for example, with H.V.Morton's 'In Search of England' or George Orwell's The Road To Wigan Pier?
I first read 'English Journey' in 1990 and within the first couple of pages I was hooked. I greatly enjoy Priestley's writing style and as I spent a large portion of my photographic career living and working in his hometown; Bradford, Yorkshire, I feel an affinity with his views and sentiment on England.  Priestley was unique in combining a warm humanity with searing social insight.  His writings on the people and places he encountered give us perhaps the most vivid and enduring impression of the country at this pivotal period; and the England Priestley discovered in 1933 is both alien and strangely familiar. This year marks the 75th anniversary of the book and it seemed to me to be the right time to undertake a project that references this signifcant literature.
Will you be re-visiting the places Priestley visited? Are you making a continuous journey around England? How are you traveling? (Priestley seemed to take all manner of transportation).
I am following the trail Priestley took in 1933 and have researched each geographical location he covered in his book. I have spread the project over the last year choosing to visit two to three locations in each trip.  I have been using the same modes of transport as he did: a combination of train, motorcar and coach.

How would you describe the photographic approach to your work? I notice from your initial photographs that you are bringing together landscapes, portraiture and interiors.
For this project my approach is to produce quiet, contemplative images of England in its urban and rural landscape and its inhabitants – images that will sit comfortably alongside Priestley's text.
How important an element to the project is portraiture? (In Priestley's view, rooted in nineteenth-century radicalism, it is 'the people' who are the real nation). And how do you decide who you will photograph- random people you come across or do you have a mental list of types of people you're looking for?
I have been taking photographs in each location in response to what and who I encounter now and what Priestley wrote about in his book then.  I am aiming to capture the essence of an English Journey rather than create a modern literal version.  I've always tried to use an opportunistic approach when shooting my projects. I have spent a great deal of time trying to research and locate contemporary people and places that Priestley would have been interested in talking to and seeing if he were experiencing England in 2009.  This has ranged from office workers, Big Brother contestants and mothers of fallen soldiers from the Iraq war.  As with many of my other long term projects I am very interested and drawn towards inter-dependent groups within communities.  I believe that Priestley's English Journey overwhelmingly articulated the need for England to remove itself of illusions and that people must depend upon each other and work as individuals towards a common purpose.
There are interesting parallels with Preistley's work which was produced during an economic slump, and his work was overtly political, appealing for democratic socialist change. You are also producing your series during quite a serious economic downturn, do you considered this important/relevant? Will their be a political stance to your series?
I started this project before the current economic slump, and I have noticed that as I have travelled, more of the images have had an element of the recession; be it subtle or the main image component.  It has been said that Priestley's writing helped shape Beveridge's 1942 report and the great reforming Labour government of 1945.  After the publication of English Journey in 1934 many leading figures in Mass Observation and the documentary movement were influenced by the book and ventured into the English industrial heartlands to record for themselves this included – Ellen Wilkinson, James Hanley and most notably George Orwell in The Road to Wigan pier two years after English Journey in 1937.

Why did you decide to make a transition to 5×4 (and colour) after your last book, 'Love, Power and Sacrifice'?
Lover Power and Sacrifice was shot over 20 years on a 35mm.  For English Journey I felt a change of approach would challenge me as a photographer.  Due to it's cumbersome size and single-shot nature the 5×4 camera forces the user to think harder about subject and composition; helping me to spend more time thinking and creating quiet contemplative photographs.  As the images are a modern take on the English Journey book it seemed natural to shoot colour film.
As I'm sure you're aware, there is a rich history of British photographers documenting their homeland. Whose work in this tradition do you most admire and why?
I greatly admire the work of British photographer Bill Brandt.  There is a superb quote by Photographer, Bill Jay, which really sums up his work:
"Bill Brandt was a quiet, withdrawn, priest-like character with the taut skin and bony, elegant features of an aristocratic aesthete. He spoke sparsely and in little more than a whisper. He believed that the camera was a medium through which he received messages from another world. I am just beginning to understand what he meant. Brandt was other-worldly in another sense. Aloof from trends and movements in his own medium, he seemed to know nothing and no one in contemporary photography. He quietly continued his experiments, always thrusting ahead into new directions, confounding expectations and confusing his critics."
Are you worried about your photographs being derivative of previous photographic studies of England?
Photographs are subjective – documentary photography can only ever be about the photographer's perceptions of place, time and the people they encounter.  As Priestley said, this will be "What one man saw and heard and felt on an English Journey."
How are you funding the project?
I have been awarded a bursary from the Arts Council England for the project.
What do you see as the finished product?
A traveling exhibition with an accompanying book in 2010