I've just received details of a book launch for Tim Brennan's English Anxieties, details of which are posted below.
John Hansard Gallery, Southampton, 7 July – 29 August 2009
Private View and Book Launch
Monday 6 July 2009, 6.00-7.30pm
Free / All welcome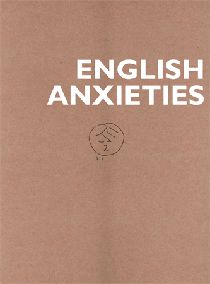 Tim Brennan's latest work, English Anxieties, is the result of a commission by Photoworks and Ffotogallery, Cardiff, in association with the European Centre for Photographic Research at the University of Wales, Newport about the Mass Observation Archive (MO) at the University of Sussex. For the last year Brennan has sifted through a myriad of archive boxes and folders, consisting of handwritten and typed reports, drawings and printed ephemera, originally gathered to provide some insight into the social worlds that Mass Observation attempted to analyse from its inception in 1937.
You can read more details here.
English Anxieties features an introduction by Russell Roberts and essays by Andrew Biswell and Peter Davidson. It's priced at £14.99 and can be ordered on 01273 607 523.