"I love processions – as humans, it's almost part of our DNA to be instinctively attracted to big public events that bring us together. A good procession is in itself a public artwork: part self-portrait and part alternative reality."
Jeremy Deller
Jeremy Deller is in the news a lot lately promoting his new body of work, Procession, which will take place at the Manchester International Festival on July 5th. With participants drawn from across Greater Manchester, Procession represents what Deller describes as 'northern social surrealism', combining social clubs, special interest groups, popular music and invited individuals with traditional processional stalwarts such as Rose Queens and brass bands.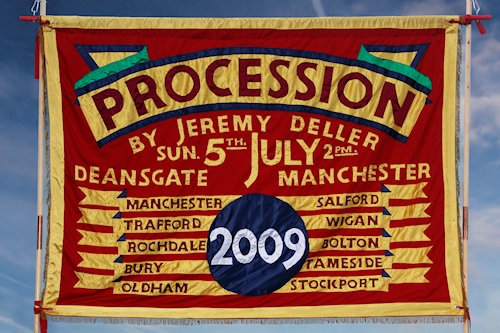 Given his current profile I thought it was about time I did post about this artist and his work.
Deller, was born in London in 1966 and studied art history at the Courtauld Institute of Art. Collaboration and participation are central to Deller's work. As he explains, "A good collaboration is like going on a long journey without a map, never knowing quite where you will end up." He acts as curator, producer or director of a broad range of projects, including orchestrated events, films and publications, which draw attention to forms of culture on the fringes of the mainstream or reveal hidden histories. He currently lives and works in London.
He is perhaps best-known for The Battle of Orgreave, 'a piece of living history' which was a commissioned by Artangel in 2001. This work brought together veteran miners and members of historical re-enactment societies who restaged the controversial clash between miners and the police during 1984-5. This collaboration resulted in a film, a book and an audio recording, which all 'function to resurrect the raw emotions from the period and provide a fresh account of events that have been distorted by the media.'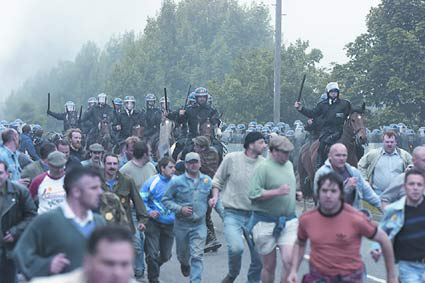 Still from The Battle of Orgreave, Commissioned and produced by Artangel © Jeremy Deller, 2001
Deller won the prestigious Turner prize in 2004, shortlisted for his installation Memory Bucket at ArtPace, San Antonio. The film uses documentary techniques to explore the state of Texas, focusing on two politically charged locations: the site of the Branch Davidian siege in Waco and President Bush's home town of Crawford. Archive news footage is collaged with interviews, juxtaposing official reports with personal narratives. (You can find details of Deller's prize winning entry on Tate Britain's website here).
The project was filmed months after the US and UK invasion of Iraq and documents Deller's travels in Texas which he talks to a variety of individuals, from staff in George Bush's local diner in Crawford, to Quaker anti-war protesters. Deller has said "making that film made me realise that it was actually possible to talk to peple almost at random, and ask questions and get responses from them, and that a journey is a very good way to present or make an artwork."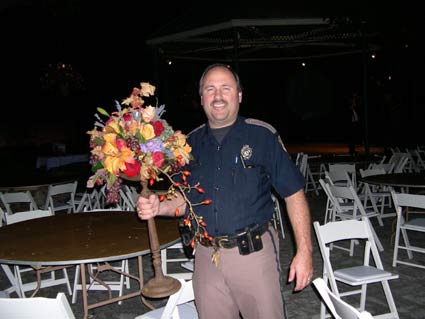 Cop with Flowers, San Antonio, Texas © Jeremy Deller, 2003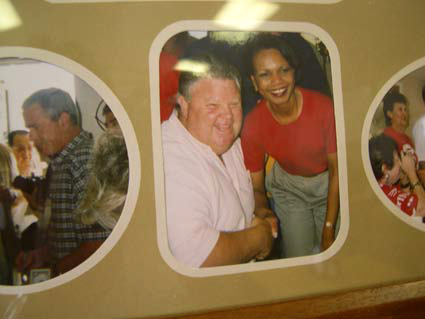 Coffee Station, Crawford, Texas. Still from Memory Bucket  © Jeremy Deller, 2003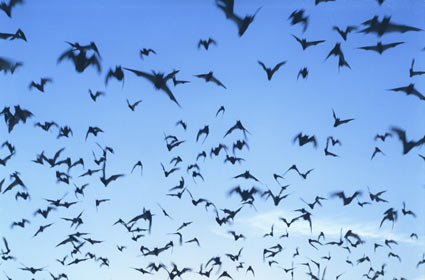 The Bats. Still from Memory Bucket  © 2003
Deller has recently completed a new body of work in America, called 'It is what it is, USA, 2009'. The work stems from a failed application to place the shell of a burnt-out car on the 4th Plinth in Trafalgar Square. The vehicle had been hit by a bomb attack in central Baghdad in which 35 people died. Instead he took the remains of the vehicle on a three-week road trip from New York to Los Angeles in a project co-sponsored by the public art group Creative Time. He was joined by Jonathan Harvey, a US soldier who served in Iraq; an Iraqi artist, Esam Pasha, who worked as a translator for the US army and now lives in the US; a curator from New York; a writer and a road manager. You can read an article by Esam Pasha in this month's issue of The Art Newspaper here.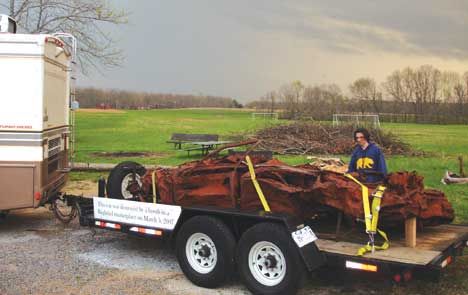 Jeremy Deller on a farm in Summertown, Tennessee for 'It is what it is, USA, 2009'
Back on home soil, Deller has often explored the cultural and political heritage of Britain and it's his work 'Folk Archive' with fellow artist Alan Kane, that was of most interest to me in connection with We English.
Kane and Deller took seven years to create the Folk Archive, (1998-2005),amassing a huge collection of vernacular artefacts froma cross Britian, from drawings and paintings to costumes and decorations. Among the 250 works are the detritus of political protests, car rallies, crop circles, clowns and office life. There are photos and footage of strange festivals and competitions where life becomes performance art, including the World Gurning Championships, and a festival of insults and horse skulls in South Wales, called Mari Lwyd.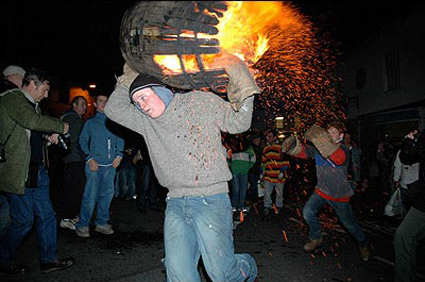 Tar Barrel Rolling, Ottery St. Mary, Devon © 2004
Interviewed by Iain Aitch in The Guardian in 2005, Deller said "We are not looking for the most bizarre stuff ever produced. It is what surprises us, what we are not expecting to see. When you see an item that is a variation on something, maybe taking it further forward or sideways, that is what we like."
"We were very conscious that stuff only exists in museums by accident," says Kane. "No one was looking around at the time that stuff was produced. I think there is a slight discrepancy between being interested in folk art and wanting to maintain or propose that anything we selected will be maintained. It is just about shifting your vision slightly."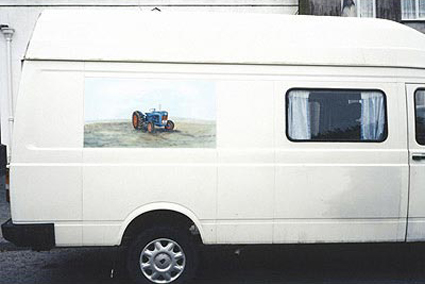 Tractor Painting on Van, Delabole, Cornwall © 2002
The show was conceived out of love for popular art and abhorrence for the meaninglessness of the Millennium Dome. The last retrospective of British folk art took place at the Whitechapel in 1951, so they thought it was about time somebody attacked the subject. Kane and Deller considering the exhibits so unique, priceless or charged by their owners and locations as to be impractical and undesirable to keep together when not on show. (It was first exhibited at The Barbican in 2005).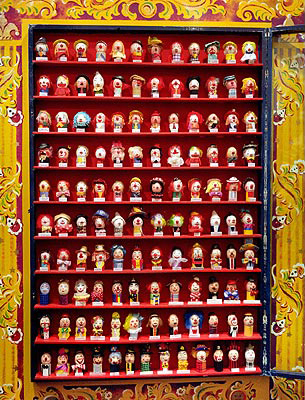 Clown Register, Clowns Gallery, Dalston, London © 2005
The Folk Archive raises absorbing questions about British-ness. How do the strange events and visual ephemera of modern life create an image of a country's psyche? What are the stories floating behind the glimpses of protest, anger, chaos and fun? Most importantly, how do these objects and images explain the motivation behind creativity? In fact, what makes this collection of photographs, videos and weird stuff so interesting is wondering why they exist at all.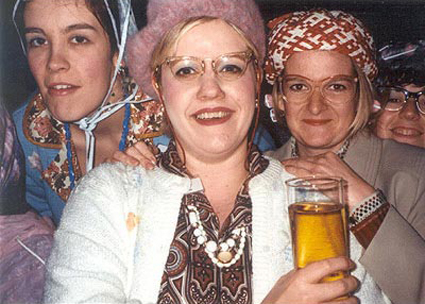 Young Girls dressed as Old Ladies, Blackpool, © 2000
You can see a gallery of more Folk Archive images here and there's a review in Frieze here.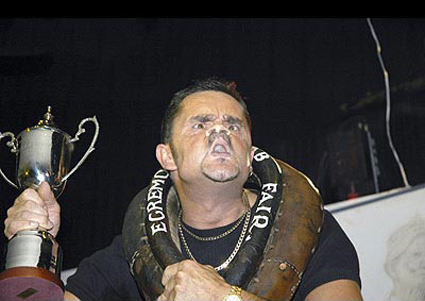 Tommy Mattinson, World Gurning Champion, Egremont, Cumbria © 2004
You can listen to Deller in conversation with Guardian columnist and broadcaster, Jeremy Hardy (2004) here.
And listen to Deller talking at the Royal Society of Arts (2008) here.
Deller's public event Procession will make its way along Deansgate in central Manchester at 2pm on Sunday 5 July 2009. Commissioned and produced by Manchester International Festival and Cornerhouse.
Start time – 2pm prompt and will last approximately 60 minutes.
Route – Procession will start from the Castlefield end of Deansgate and will end at Manchester Cathedral. Click here to view a map of the route.
Find out more here.