As Peter Walker writes in a recent article in The Guardian, the word staycation – a predicted mass shift by recession-hit Britons towards domestic holidays – has slipped inexorably into the modern tourist lexicon in just a matter of months. And if you believe all the media reports on this phenomenon, a combination of the recession and the feeble pound will see/have seen millions of families abandoning their villa on the Algarve for a cost-conscious domestic alternative.
According to a recent survey by Mintel, some 35% of Britons said the economic climate had stopped them from booking a main holiday in the next six months, despite the fact that such a break has increasingly become seen as a right rather than a privilege throughout the recent era of cheap, easily accessible overseas travel. As a result domestic holiday centers such as Butlins – that veritable English institution – are enjoying a revival.
Butlins, the nation's favourite cheap and cheerful holiday resort may have battled with an image problem in the past but new investment is hoping to put it firmly on the pampering map! The company's PR department has obviously been in overdrive recently with articles on their new £20 million Ocean Hotel in Bognor Regis (the South Coast resort that famously caused George V to exclaim 'Bugger Bognor!' when told by his doctors to convalesce there) featuring in most of the national newspapers. Take this report in the Daily Mail for instance.
© John Hinde Ltd/ Chris Boot Ltd
The first holiday camps in the UK were the masterplan of entrepreneur William 'Billy' Butlin, who had seen some lakeside holiday centres during a visit to Canada during World War I and realised that they were something that could easily be introduced to his native Britain. Butlin selected the seaside town of Skegness, Lincolnshire, for the location of his first holiday camp, which was opened on 11 April, 1936. The story goes that he first spotted what became the company slogan – "Our true intent is all for your delight" – emblazoned on a fairground organ, little knowing that it was a line from A Midsummer Night's Dream.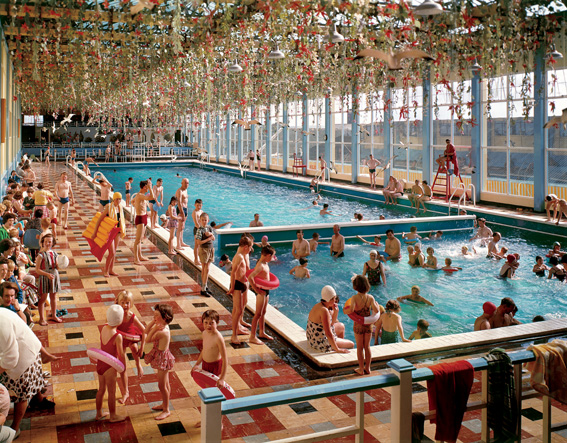 © John Hinde Ltd/ Chris Boot Ltd
Stephen McClarence charts the background to Butlins in an article in the Telegraph here. McClarence writes "Butlin, a canny South African-born fairground man who started out with a single hoopla stall, realised that the unreliable British climate left holidaymakers with a problem – what to do when it rained. Reputedly fed up with trudging around a monsoon-lashed seaside resort in search of shelter and amusement, he came up with the idea of a holiday village with all-inclusive accommodation, meals and entertainment. And plenty of roofs. The appeal was simple. From dawn (signalled by a cheery "Good morning, campers!" over the tannoy), to dusk, there was no need to organise anything for yourself. It was all there on site and on tap: ballrooms, theatres, golf courses, swimming pools – brimming, if Forties posters can be believed, with sleek, chic young people with dazzling smiles. Vast dining rooms served meals on an industrial scale. It was all 'Biggest… Brightest… Best' and its heyday was the Sixties, with two million overnight guests a year."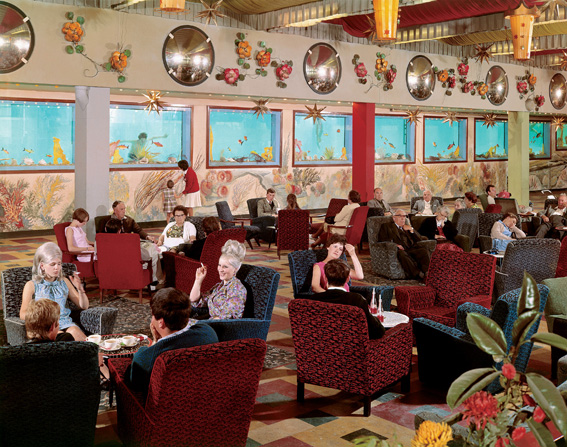 © John Hinde Ltd/ Chris Boot Ltd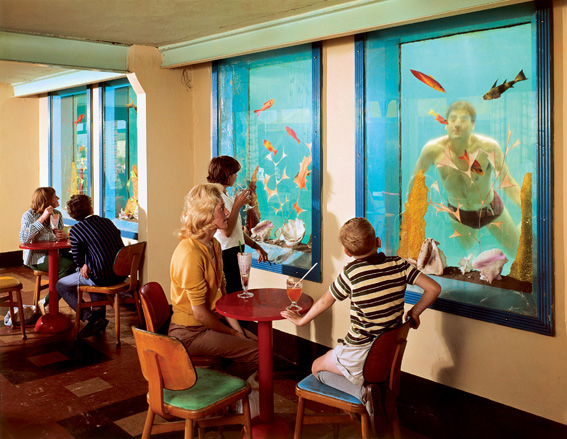 © John Hinde Ltd/ Chris Boot Ltd
In the 1960s, Billy Butlin commissioned colour photography maestro John Hinde to immortalise his empire. The results spawned the tradition of the lurid, hyper-real postcard. Each photograph was stringently composed by Hinde and his team, and the colour saturation doctored to render everything in unnatural Technicolor. It was the job of two German photographers (Elmar Ludwig and Edmund Nagele) and one British (David Noble) to execute the photographs to Hinde's rigorous formula. At the time, the results were deliberately populist adverts, but as Holly Kyte writes in The First Post, "now these delightfully artificial social documents have, unintentionally, become art instead."
The postcards were brought together in a wonderful book edited by Martin Parr and published by Chris Boot. Our True Intent is all for Your Delight was published in 2005.
"Long viewed only as a master of kitsch Hinde is now recognised, albeit posthumously, as a peerless social documentarian. Dazzling in their their colour intensity and strange clarity…. Visionary, Wonderful." Sean O'Hagan, The Observer, London
"Extraordinary…the combination of aesthetics and promotion produced something that bypasses documentary and approaches an arresting British surrealism." David Jays, Financial Times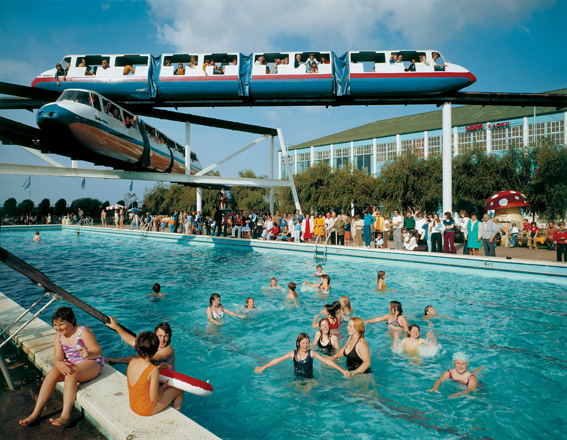 © John Hinde Ltd/ Chris Boot Ltd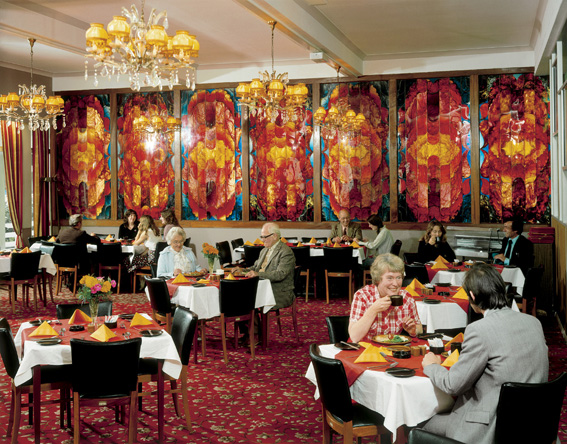 © John Hinde Ltd/ Chris Boot Ltd
It's interesting to note that the postcards had an impact on the young Martin Parr, who worked over two summers at Butlin's in the early 1970s and introduces the images for this book. You can see how the photographs has had a lasting impact on his own photographic aesthetic – Martin Parr's portfolio on Magnum website.
More than 10 million British holidaymakers have stayed at Butlins since then, and though modernised versions of the camps still exist, their glory days have long been over (que the new Ocean Hotel resort).
There is an article on the John Hinde postcards written by Michael Collins in The Telegraph here.
You can read a potted history of the Butlins resorts on the BBC website here.
And here is a slideshow of photos from Butlins resorts in their heydey.