September 26th, 2009 admin
As I've mentioned previously, the National Media Museum will be producing the first major exhibition of We English. As part of the show, the Museum is commissioning a new photographic work for inclusion in the exhibition to be produced in the Bradford District.
Similarly to the Your Ideas which I sought last year, I will be seeking suggestions from the general public for this new work. I'm looking for events or leisure pursuits taking place in the Bradford District. These suggestions are crucial to the success of this commission. They can be anything from Sunday-league football and religious festivals to family traditions and bizarre rituals; from the ordinary and everyday, to the unique and extra-ordinary. They must be taking place outdoors and between now and November 2009.
Use the form on the National Media Museum website to publish your ideas straight to the suggestions page.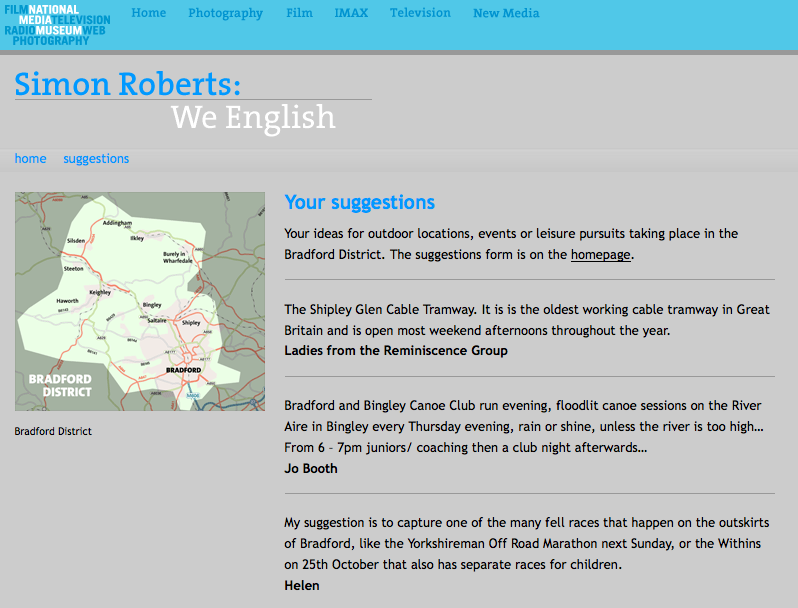 Simon Roberts: We English will be exhibited from 12 March – 5 September 2010.
The museum is open Tues – Sun, 10am – 6pm. Open Mondays during school and bank holidays.
National Media Museum
Bradford
West Yorkshire
BD1 1NQ
Here are some interesting (!?) ideas posted up by readers of the Bradford Telegraph & Argus newspaper.