November 16th, 2009 admin
I've recently come across a few references to the work of the British photographer, Peter Mitchell (some of his work was included in 'How We Are: Photographing Britain' at Tate Britain in 2007) and I'm intrigued to find out more.
Kingston Racing Motors, Leeds, 1974 / Hudsons Newsagents, Seacroft Green, Leeds, 1978 © Peter Mitchell
So far I've been able to garner this information-
In the 1970s, Peter worked as a truck driver for Sunco, and photographed the sights of Leeds on his journeys around the city. He had the first landmark colour photography exhibition in the UK at Impressions Gallery in York in 1979 (the gallery is now based in Bradford). Titled 'A New Refutation of the Viking IV Space Mission', the show depicted the factories and small shop owners of Leeds, all photographed in a very formal manner with the aid of a stepladder. The idea was that this is how Leeds might be seen by aliens departing from their spaceship when the Mission from Mars finally lands on the unsuspecting city!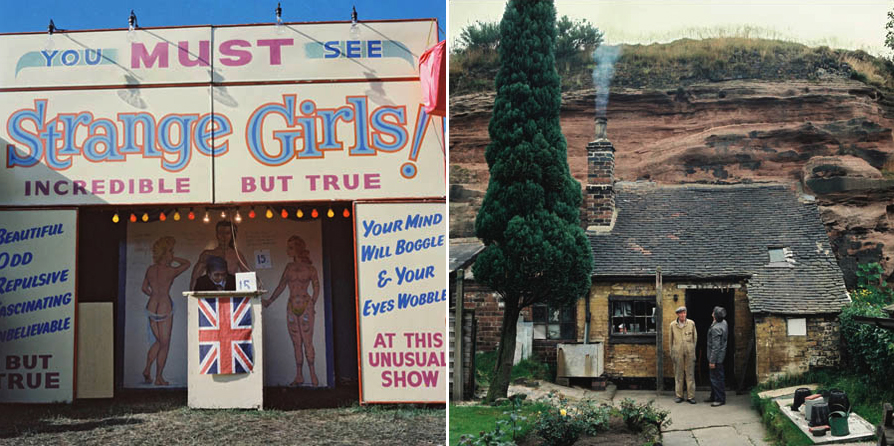 Small funfair in Roundhay Park, Leeds, 1982 / Home of the Underhill Brothers, Starbeck Lane, Stoke on Trent, 1982 © Peter Mitchell
In June 2007 Mitchell was included in a group show curated by Martin Parr at the Hasted Hunt gallery (now Hasted Hunt Kraeutler) in New York entitled COLOUR BEFORE COLOR. Parr selected a group of European photographers who were working with colour photography in the early 1970s either before or at the same time as William Eggleston and Stephen Shore in the US.
In an attempt to redress the balance, Parr's exhibition attempted to demonstrate that an equally lively colour photography culture was evident in Europe both before and during the 70s. This work has been largely overlooked as it was not put together as a movement, nor was it promoted by high-profile institutions in the way that work by Eggleston, Shore and Joel Meyerowitz was.
In February 2008 Mitchell had an exhibition at the PSL Gallery in Leeds along with the work of Eric Jaquier called Strangely Familiar. Together they captured a bygone age in Leeds, with dance halls and coal yards, factories and mills.
You can read an interview with Mitchell and Jaquier in the Yorkshire Post here and see some of the photographs from the exhibition on the Guardian's website here. There's also an essay over on American Suburb X here written by Professor David Mellor.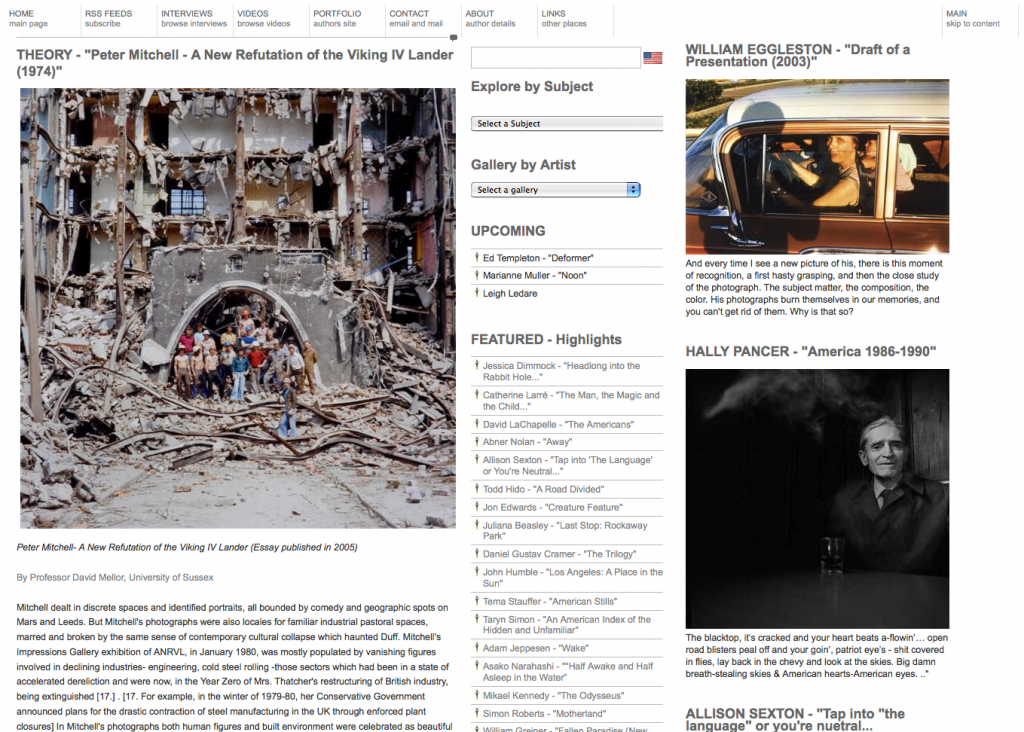 Screengrab from Amercian Suburb X
Other than these links, there's precious little about his photography on the web. If anyone knows of other references to Mitchell's work, then please let me know.