December 15th, 2009 admin
I've just noticed that The Caravan Gallery have launched a second volume of their incredibly successful book 'Is Britain Great?'. Since it's first outing in 2000, the project has grown into a cottage industry selling everything from postcards, visitor guides and journals to greeting cards, wrapping paper and prints.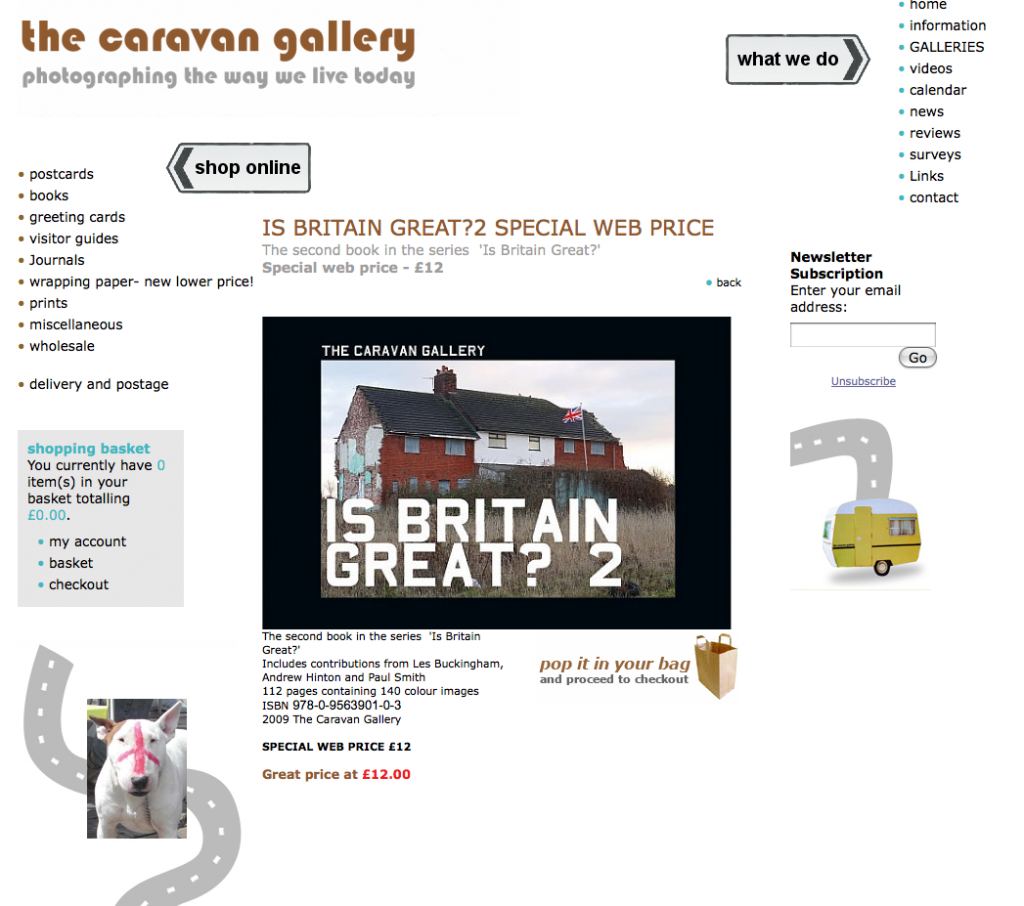 From their website- "The Caravan Gallery is a mobile exhibition venue and visual arts project run by artists Jan Williams and Chris Teasdale who are on a mission to record the ordinary and extraordinary details of life in 21st century Britain. Eager to examine clichés and cultural trends, they are particularly drawn to absurd anomalies and curious juxtapositions, typical of places in transition and in the process of reinventing themselves as regeneration fever sweeps the land.
Simultaneously seduced by and suspicious of the rose-tinted tones of tourist information brochures, and frustrated by their yawning omissions, Williams and Teasdale set out in the year 2000 to redress the balance, sidestepping the brown signs and interpretation boards to see what lies beyond. Their findings constitute a substantial and ever-growing archive, a highly subjective survey-cum-tour guide to the 'real' Britain in the new millennium.
The Caravan Gallery, a diminutive mustard model (circa 1969), with white walls and beech floor on the inside (like a 'real' gallery), provides the perfect setting for an evolving exhibition of  photographs made in response to places visited; at any one venue, location-specific work arising from a previous research visit is exhibited alongside other material from the Caravan Gallery archive."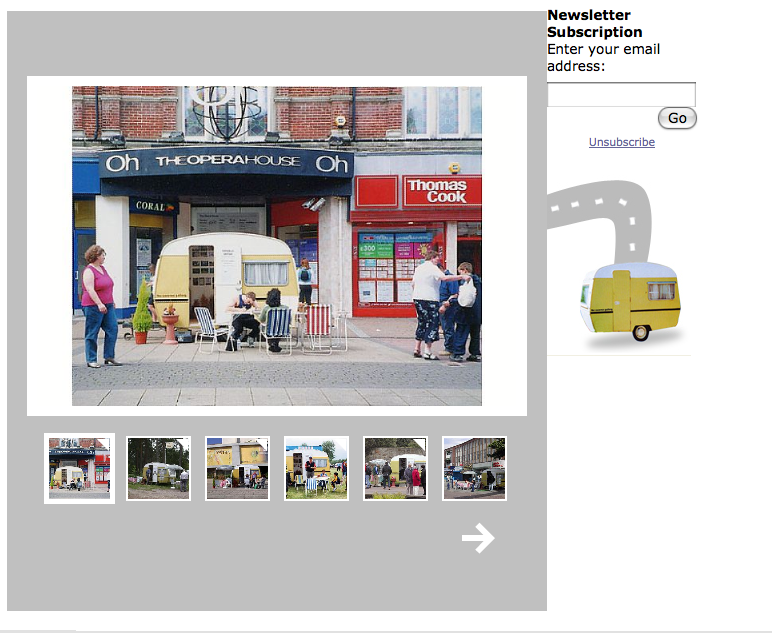 "Audience diversity and social inclusion are fundamental to our project. The Caravan Gallery project is accessible to all and operates in a range of public and highly visible locations. Although access to the caravan itself may be difficult (although not impossible) for people with certain physical disabilities, we will ensure that provision is made for full participation in the area set up around the caravan. This could include taking part in surveys, looking at exhibits and shows in an adjoining marquee etc. People unable to enter the caravan can view a certain amount from the outside and are able to look at a portfolio containing images displayed inside the caravan."
Here are a sample of the photographs, taken from their online gallery-