As I've mentioned previously, We English aims to extend, and reflect upon, a rich history of documentary photographic projects by British photographers that have aspired to capture the lives of diverse communities across the country and explore issues surrounding national identity. Some of which could be seen in the recent exhibition at Tate Britain 'How We Are – Photographing Britain' (2007).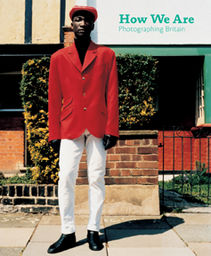 I've compiled a timeline of major photographic projects that have been concerned with documenting the social, political or cultural landscape of England/Britain. Not all these bodies of work were published as books (for instance Another Country by Chris Killip & Graham Smith was an exhibition at the Serpentine), while some have been published much later after the photographs were produced (such as James Ravilious' An English Eye). You can find links to many of the works under the 'Photography' section on the side panel.
This is not an exhaustive list, rather work I have come across over the years and which has proved inspirational in my research for We English. Please free free to add your suggestions of important work that I may have missed.
Timeline-
Benjamin Stone, A Record of England (1897-1910. Published 2006)
Bill Brandt, The English at Home (1936)
Humphrey Spender, Worktown, (1938)
The 'Young Meteors' – a generation of British photographers including Phillip Jones Griffiths, Don McCullin, Roger Mayne, Nigel Henderson, John Bulmer, Terence Donovan and David Hurn (1960s. Published 1999)
Jane Bown, The Unknown Bown (1947-67. Published 2007)
The John Hinde Butlins Photographs (1960-70s)
Tony Ray-Jones, A Day Off (1974)
Patrick Ward, Wish You Were Here – The English at Play (1976)
Homer Sykes, Once a Year- Traditional British Customs (1977)
Ian Berry, The English (1978)
Paul Graham, A1 – The Great North Road (1983)
Chris Killip & Graham Smith, Another Country (1985)
Raghubir Singh, Bradford Fellowship- National Media Museum (1985-86)
Martin Parr, The Last Resort (1986)
Peter Marlow, The Liverpool Project (1987)
Ingrid Pollard, Pastoral Interludes (1988)
Chris Killip, In Flagrante (1988)
Anna Fox, Workstations (1988)
Martin Parr, The Cost of Living (1989)
Chris Steele-Perkins, The Pleasure Principal (1989)
Paul Reas, Flogging a Dead Horse (1993)
John Kippin, Nostalgia for the Future (1995)
Mark Power, The Shipping Forecast (1999)
Martin Parr, Think of England (2000)
Richard Billingham, Ray's A Laugh (2000)
Nick Danziger, The British (2001)
Jem Southam, Landscape Stories (2005)
Jeremy Deller & Alan Kane, The Folk Archive (2005)
Jan Williams & Chris Teasdale, Welcome to Britain (2005)
John Davies, The British Landscape (2006)
Harry Cory Wright, Journey Through the British Isles (2007)
Don McCullin, In England (2007)
James Ravilious, An English Eye (2007)