Martin Parr got in touch after my post commenting on photographs from his British cities project (Underwhelmed by Parr), which published in The Guardian's Weekend Magazine. Martin was kind enough to send me a couple of samples of the individual supplements, so I thought I'd post up some layouts along with quotes from him talking about the work. (Quotes were taken from an interview Martin did with David Land in the RPS Journal, October 2008 issue, and on the Martin Parr We Love U/Discuss? Flickr page).
As readers will know from my post, I was quite critical about the photographs that featured in The Guardian. Martin replied-
"Do remember Simon has only seen the spread in the Weekend magazine, which I did not think was the best edit. Had this been the only thing someone had seen I would have sympathy with his comments. I did relinquish control for the Weekend spread, but was given the chance to sign off and indeed steer the individual supplements in the direction I wanted. Any criticism should be based on the original edit, that I signed off. There have been many comments on this project, some negative and some critical. However if you look at all 160 pages of my depiction of contemporary Britain, it does make sense."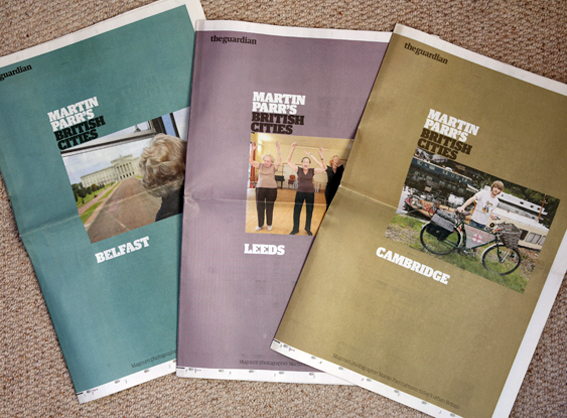 "The motivation for the Guardian was very simple, they wanted to find a project that helped to boost circulation (or at least on the day of publication) in their key cities for readership (London being the exception). This is why Cambridge had a supplement, and Birmingham did not. They also wanted to demonstrate that they are interested in the key regional cities in the UK."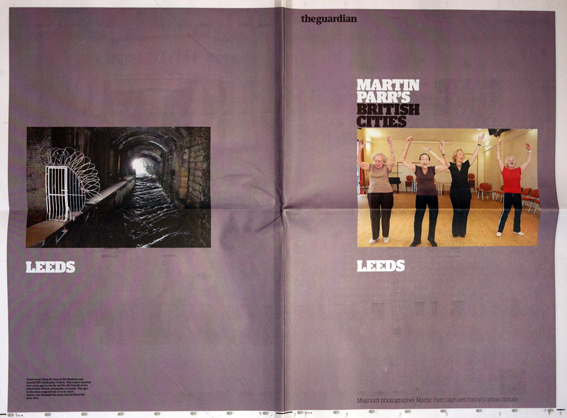 The cities and publication dates for the supplements were-
Cardiff (July 26th 2008)
Bristol (Aug 2nd 2008)
Edinburgh (Aug 23rd 2008)
Belfast (Sept 27th 2008)
Newcastle and Cambridge (Oct 25th 2008)
Leeds (Nov 22nd2008)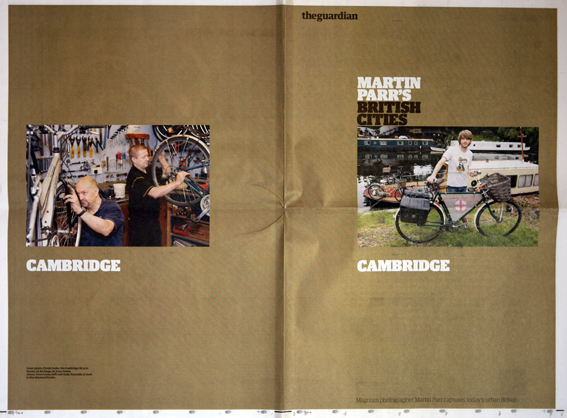 "That said I believe the boldness of this project has to be applauded as they have shown real commitment to photography by commissioning this. All the images from this project will potentially go towards a new book I am planning about the UK in a few years time. The Guardian were keen to make a book, and I steered them away from this, as I thought the idea of a box of the original newspaper supplements was a lot better. I still do, as this project has an identity that is unique."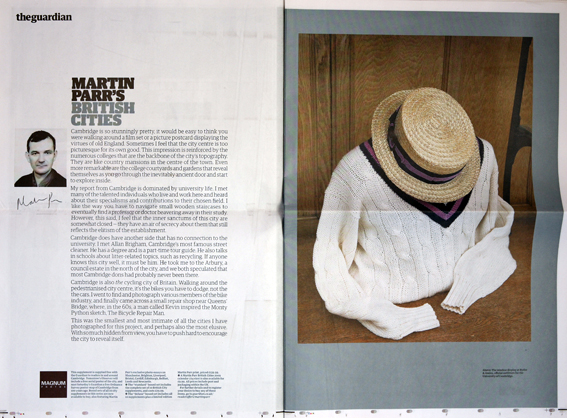 "It's been fantastic doing this project on British cities, because its given me a chance to go round and meet remarkable individuals, shops that are hanging on, fighting against the big chains, I do of course go into the supermarkets, but I try and find shops that have real character, where the individual owner or managers is flourishing, so I can show both sides of what's happening. The great thing about doing this project is that it give me a chance to plug and talk positively about these small retailers. Even in a city that you think you know, you might not know about them, so it's a small contribution to trying to make people aware of some of the pleasures and joys that the city may contain."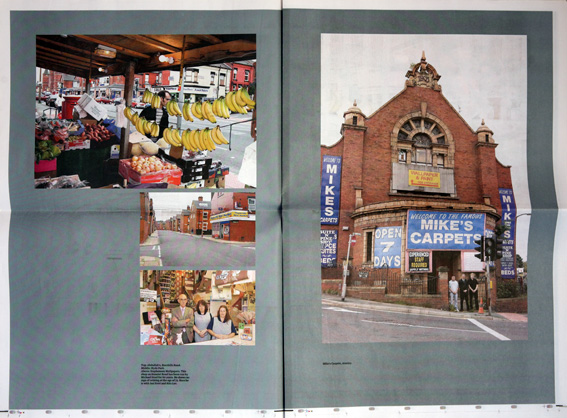 "Many people have criticised my portraits as they did not fit into their agenda. I remind people that when one is a photographer, you have the right to have an agenda, and thank God that is the case. Without them any documentary work becomes very tedious. Why would I expect this to overlap with mine?"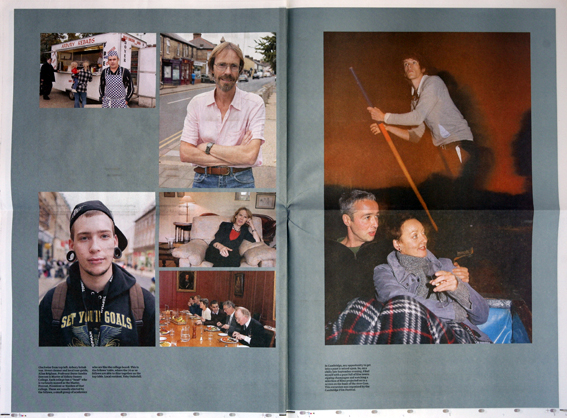 "I had no agenda apart from looking round, finding photogenic situations and I believe that I am entitled to shoot what i like."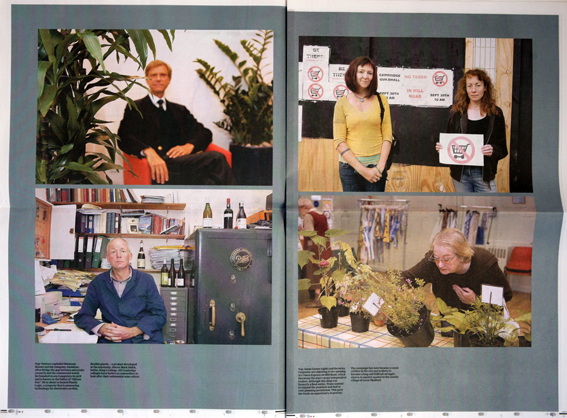 "My palette and my work is changing and shifting constantly. It would be too easy to repeat the language that I used in the 1980s in The Last Resort. Now I'm shooting predominantly digital, so it immediately gives me a different palette. Whereas in the past I shot on highly saturated amateur film emulsions, as part of the language I'd built up, now I shoot on a Canon EOS 5D with a ring flash, although the thing I really swear by is my Gary Fong diffuser."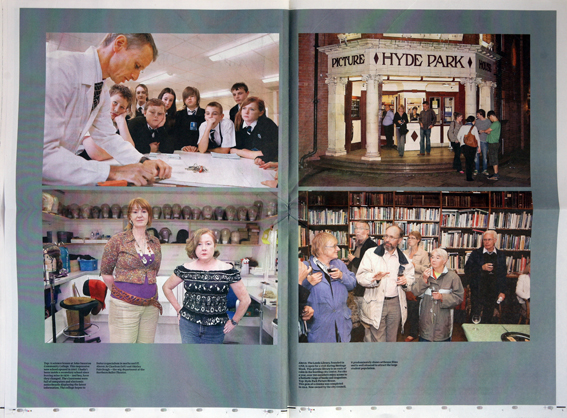 David Land sums up his interview in the RPS Journal: "You might not immediately recognize Parr's recent work as being shot by him. Over the years, he's built a strong characteristic style, involving bright, garish colour and people capture unawares, often in surreal or humorous situations. His latest work however, is contemplative, consensual, subdued, and quite beautiful."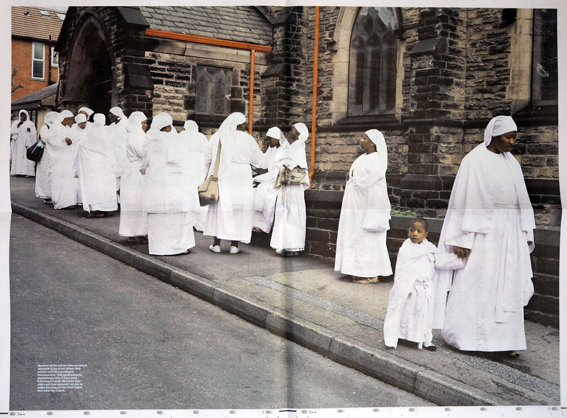 I'm not sure I totally agree with David, however, as with most of Martin's work, it certainly has caused plenty of debate. Which I can't fault.